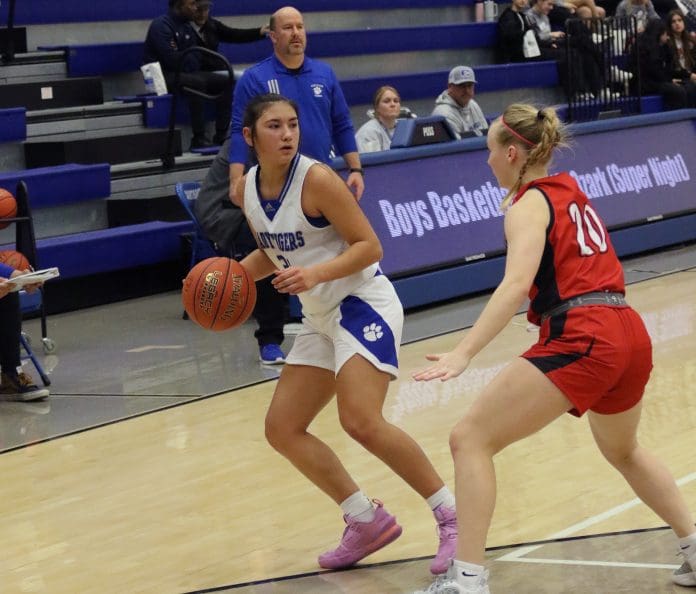 CASSVILLE, Mo. — Carthage High School Senior Kianna Yates scored a game-high 35 points to lead the Lady Tigers over Cassville 63-47 Thursday in Cassville.
With the 35 points, Yates passed Maya Williams in all-time career scoring for the Lady Tigers with 1,548 points over her four year career.
"We knew going into the game that Kianna needed 35 points to set the record and the girls wanted to get that done for her tonight," Carthage Head Coach Scott Moore said. "She's such a great player and a great teammate that the girls were super excited when she set the record with a 3 in the 4th quarter.
"Overall, I thought we played with focused energy tonight," added Moore. Cassville is a tough team and they did their best to deny Kianna with a box and one. Fortunately for us, she's faced that a lot in her career, so we just ran our package of plays that get her open for shots.
"It's an amazing accomplishment for her, and for the entire team. It takes a whole career of talented teammates to make that happen. She's not a selfish player, she's set this record by being a consistent 15-20 points per game scorer for four years."
Sophomore Maggie Boyd also finished in double-digits for the Tigers with 12 points, including two 3's. Lauren Choate added eight points, Zye Clark and Lexa Youngblood chipped in with three points each, and Jaidyn Brunnert and Ashlyn Brust finished with one point a piece.
"I thought that Maggie and Lauren did a great job of giving us offensive balance tonight," Moore said. "When those two are hitting shots, a team can't focus just on Kianna. Also, the post players set a ton of screens to get her open and that's a credit to them being that unselfish for a teammate. Again, it's an individual record that takes great teamwork to accomplish.
"I'm so proud of the talented player she has become and also the wonderful young lady she has grown into," added Moore. "She has definitely left a lasting legacy on the court, within our program and in the Carthage community as a whole."