Lady Tigers 67 vs. Sunrise Christian 46
CARTHAGE, Mo. — The Lady Tigers, who saw themselves down 20-5 at the end of the first quarter, were able to put it together to outscore Sunrise Christian 62-26 over the final three quarters in a 67-46 win Friday.
"I'm really proud of how the girls played tonight and how we handled some adversity when our shots weren't falling early on," said Coach Scott Moore. "We played hard and took a lot of good shots in that first quarter, we just couldn't get any shots to fall. That allowed (them) to get out and run in transition, and kept us from getting set up in our full-court and half-court defenses."
Kianna Yates and Lauren Choate both scored in double digits to lead the Lady Tigers. Yates scored 23, while Choate added 19. Ashlyn Brust and Maggie Boyd added seven points each. Landry Cochran and Jaidyn Brunnert added four points apiece and Lexa Youngblood finished with three points to round out the scoring for Carthage.
"Kianna and Lauren were our offensive catalysts tonight," added Moore. "Kianna had 23 points and at least 10 rebounds for her second consecutive double-double. She's such an exciting player for all 94 feet of the court. Lauren has been struggling with her shot in the early going this season, but she picked a great time to come out of her slow start to hit 4 threes."
Lady Tigers 32 vs. Bentonville 50
The Lady Tigers saw themselves down early in the first quarter for the second consecutive game, but were unable to duplicate the comeback efforts in a 50-32 loss to Bentonville during their final game of the Carthage tournament Saturday.
"A poor shooting first quarter dug us a hole we couldn't climb out of today against a very tough Bentonville team," said Coach Scott Moore. "We will work on our areas of concern in practice on Monday and get ready to take on Lamar on Tuesday."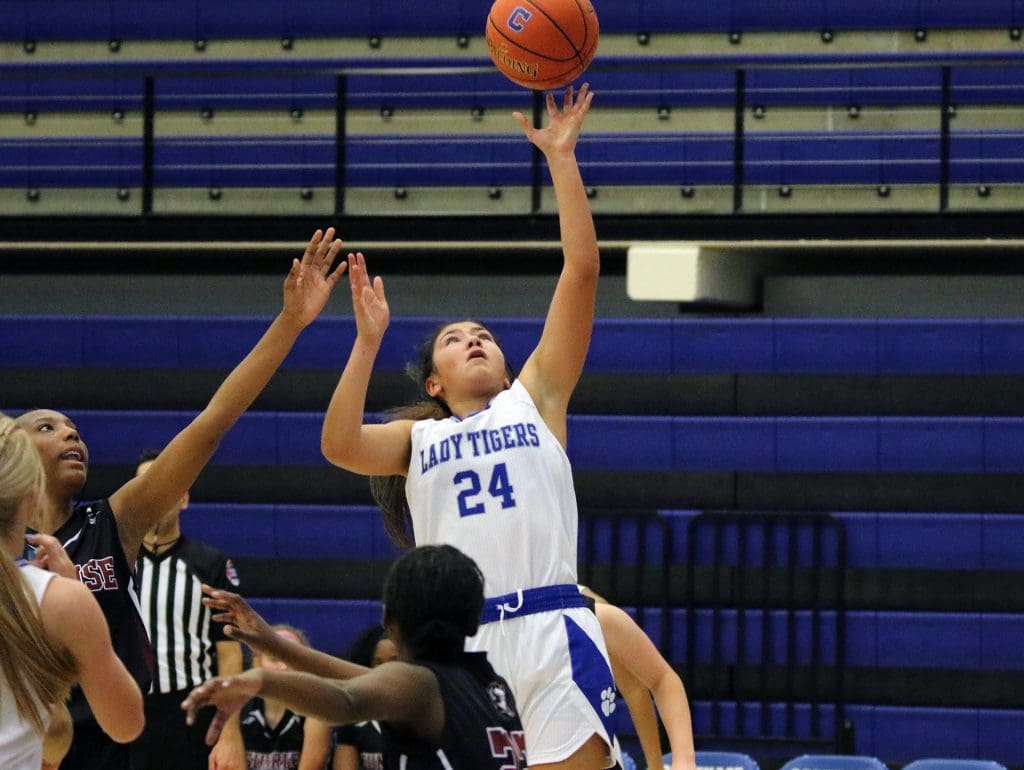 Maggie Boyd led the Tigers with 11 points followed by six points from Jaidyn Brunnert. Kianna Yates and Lauren Choate finished with five points each. Ashlyn Brust and Landry Cochran had 2 points apiece and Lexa Youngblood added one point.
The Lady Tigers are 3-1 on the season and face Lamar Tuesday.
All-Tournament Team
Ella Campbell – Bentonville
Kaitlyn Edwards – Sunrise Christian
Sami Mancini – Webb City
Braylee Rogers – Olathe East
Neely Schaaf – El Dorado Springs
Kianna Yates – Carthage
Lady Tigers Shootout MVP
Macie Mays – El Dorado Springs