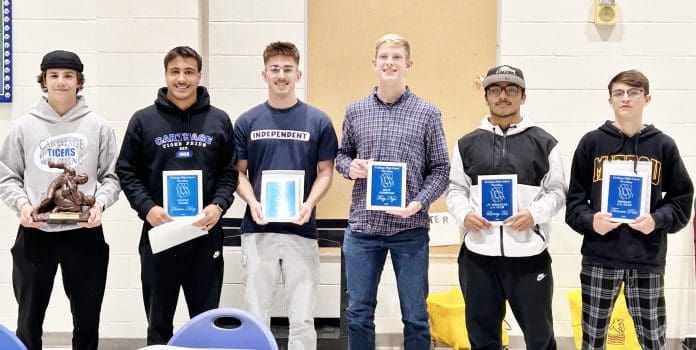 CARTHAGE, Mo. — Carthage Tigers Wrestling wrapped up its 2022-23 season with an awards banquet highlighting the accomplishments of the individual wrestlers and the team.  Head coach Kenny Brown started off the evening with an emotional announcement of retirement as the Tiger Wrestling coach after a successful 21 year career at the helm.  While the announcement was a surprise to some, Brown announced, "It's time.  I've been doing what I love for over twenty years and I've got a great staff of amazing guys to take over.  Plus I'm old and tired – these younger guys can get around on the mat and roll with the boys a lot easier than I can."
Starting at age nine, Brown began wrestling in the youth program in Kirksville, MO after his brother – who is three years older – became interested and started competing.  "Sports was all we knew in our household.  Every weekend my parents would load us all up in the car and take us to whatever tournament or event we were participating in.  It made me who I am today and I love competition and getting to work with kids."  Brown plans to continue his involvement with wrestling by officiating again (something he has held a license in since 1995) and supporting his younger brother Chris, a head coach in St. Louis.
Coach Brown did not want his announcement to overshadow the accomplishments of his boys, though, so after a slideshow commemorating the senior wrestlers, he made the presentations of the overall and individual awards.
Lenny Teo was awarded junior varsity wrestler of the year, with Tanner Putt as rookie of the year and senior Trey Nye as most improved.  Seniors Grey Petticrew and Davion King both received the hustle award and junior Bradyn Tate was the recipient of the Wrestler of the Year award.  Tate also was gifted a smaller version of Coach Brown's dock worker's hat to commemorate his time with his mentor and always be reminded of his role as a senior leader next year.
Team Accomplishments
5th @ Farmington
9th @ Harrisonville
4th @ Carthage Duals
7th @ Platte County
6th @ COC
3rd @ JV COC
7th @ Districts
18th @ State
8-3 Dual Record
Awards
JV Wrestler of the Year—Lenny Teo
Rookie of the Year—Tanner Putt
Most Improved—Trey Nye
Hustle Award—Davion King and Grey Petticrew
Wrestler of the Year—Bradyn Tate
Junior Varsity Team Members
Saul Alvarado Hernandez, Douglas Ball, Blayne Benefiel, Franky Contreras, Hector Escobar, Jed Fewin, David Gramajo Paz, Alexander Hernandez Guzman, Joshua Hill, Erick Mejia, Noah Norbury, Brayan Perez Flores, K.J. Pickering, Jared Portillo, Mason Pugh, Steve Serious, Lenny Teo, Matthew Bysor, Wyatt Hole, Emerson Ixcol, Joseph Ixcoy, Brayden Lee
Keagon McCoy, Brandon Perez, Israel Perez, Cole Tournear, Corey Breese, Indiana Gray, Alexander Salas-Marquez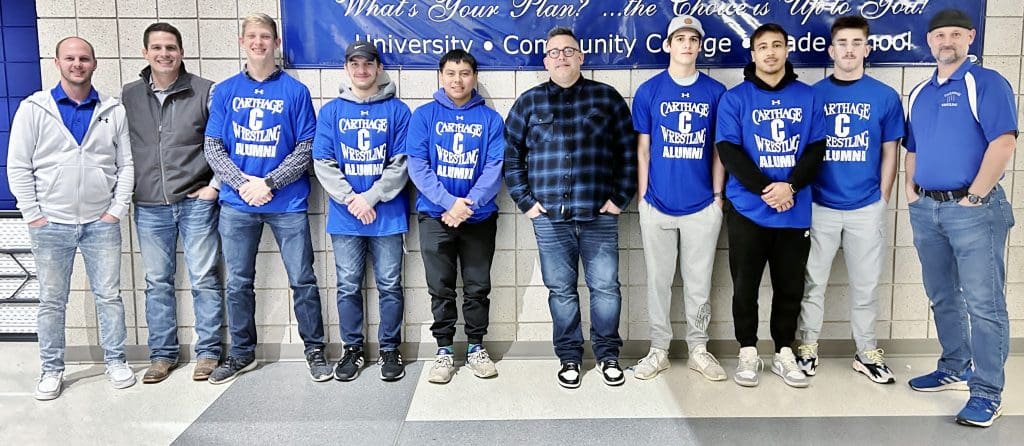 Varsity Team Members
Grady Huntley—(28-16)V, (3-0)JV
3rd in Reversals(15)Tied
Aydan Nye—(18-11)V, (9-1)JV
Tanner Putt—(30-15)V—State Qualifier
2nd in Team Points(204)
3rd in Wins(30)Tied
3rd in Falls(23)
3rd in Reversals(15)Tied
2nd in Nearfalls(27)
David Recinos—(27-12)V
1st in Decisions(12)
2nd in Escapes(27)
1st in Penalty Points Earned(8)
Alberto Sales—(17-14)V
Bradyn Tate—(48-8)V
1st in Team Points(307.5)
1st in Wins(48)
1st in Falls(35)
1st in Takedowns(134)
2nd in Reversals(19)
1st in Nearfalls(41)
Individual Weight Class Awards(132)
Most Falls—Hunter Yust('15), Aaron Groom('07), Jared Patrick('97)—24
Most Takedowns—Clay Stark('98)—114
Most Match Points(439)—Clay Stark('98)—428
Most Team Points—Trevor Feagans('12)—286
34th on All-Time Wins list with 104—only 3 behind his brother
6th in State @ 132 lbs.
Academic All-State
Kip Castor—(21-12)V, (89-59)V Career
Esvin Gonzalez—(9-19)V (3-3)JV, (9-19)V 25-27)JV Career
Davion King—(30-4)V, (138-29)V Career—83% Winning Percentage
3rd in Wins(30)Tied
10th All Time Wins List
16th Career Winning Records List(Coach Kelly is 15th)
11th Carthage Wrestler to place at State 3 times
2-time District Champion
4th in State @ 165 lbs.
Academic All-State
Gabe Lambeth—(25-14)V, (40-28)V (41-3)JV Career
1st in Escapes(37)
Trey Nye—(27-16)V, (31-19)V (33-17)JV Career—62% Winning Percentage
3rd in Takedowns(45)
3rd in Escapes(26)
1st in Reversals(21)
95th on the Career Winning Records List
Grey Petticrew—(32-12)V, (72-34)V (15-1)JV Career—68% Winning Percentage
2nd in Wins
2nd in Falls(28)
2nd in Takedowns(49)
3rd in Reversals(15)Tied
3rd in Nearfalls(25)
68th on the Career Winning Records List
6th in State @ 150 lbs.