COLUMBIA, Mo. — Junior Bradyn Tate and seniors Grey Petticrew and Davion King all brought home hardware from this year's MSHSAA Class Four Wrestling Championships in Columbia, MO.  Tate and Petticrew, who both placed sixth, took the state podium for the first time in their high school wrestling careers.  Tate also set another individual weight class record at 132 lbs. for the most match points in a season.  When asked how he felt about his performance at this weekend's tournament, Tate stated the following: "I felt proud of myself that all my hard work throughout the year put me on the podium." Tate said the highlight of his weekend was definitely "Seeing Coach Brown and Coach Kelly excited after my blood round when I knew I was medaling!"  Tate attributes his improvement to becoming "more aggressive" since he has "gotten a lot better in scrambling positions – which is huge at the state tournament".
The blood round, or cry round as many call it, refers to the round of wrestlebacks (consolation matches) that occur after a wrestler has already lost once but is not eliminated yet and still has a chance to medal if they win that round.  Tate notes that this was his biggest challenge going into day two of competition. "Getting over that first match and making sure I was warmed up.  After that it was smooth sailing and I could really just focus on having fun 'cause all of the medals I could've won at that point were the same color."
Senior Grey Petticrew had a similar mentality, noting that first match on Saturday caused him the most stress. "Getting the blood round out of the way. After that I felt loose and ready to wrestle." Petticrew credits the evolution of competitors and the sport with the level of competition seen at the state tournament. "I definitely feel it has gotten tougher".  When asked about the highlight of the tournament for him, he was quick to reference his win against Dillon from Francis Howell North, who is coached by Chris Brown, brother of Carthage Head Coach, Kenny Brown.
This is Kenny Brown's 21st season at the helm of Carthage Wrestling, and it was the first time the two brothers' schools have faced off in any wrestling competition, including the State tournament since Carthage bumped up to Class Four in 2019. Petticrew also had the honor of being coached by his own father, John Petticrew, for the last four years. John was a fourth place state finisher for the Carthage Tigers and he and Grey are the first ever father/son duo to both medal for Carthage.  When Grey was asked how nervous his dad was during the blood round; "5 out of 5".
Senior Davion King capped off a brilliant high school career this weekend with his fourth place finish at the state tournament.  Finishing fifth as a sophomore and second as a junior, King has earned the Most Valuable Wrestler honor the past two years from his coaches and peers. As with most competitors, though, King is always pushing to be better. "It wasn't my best performance, but I've done worse before.  My 3rd match on the first day was the highlight, just because I wrestled my best.  I was very sore going into day two – I just had to fight through it though".  Much of that drive can be attributed to the constant level of competition he and his brother, Dalen Moore, are always pushing.  Moore placed third at the state level, and has been a source of encouragement for King throughout the years.  But like typical brothers, they are always trying to best each other.  And there is always a level of awareness about the other's accomplishments.  Moore was a junior college all-American for NEO, and King hopes to continue his wrestling career in college, as well.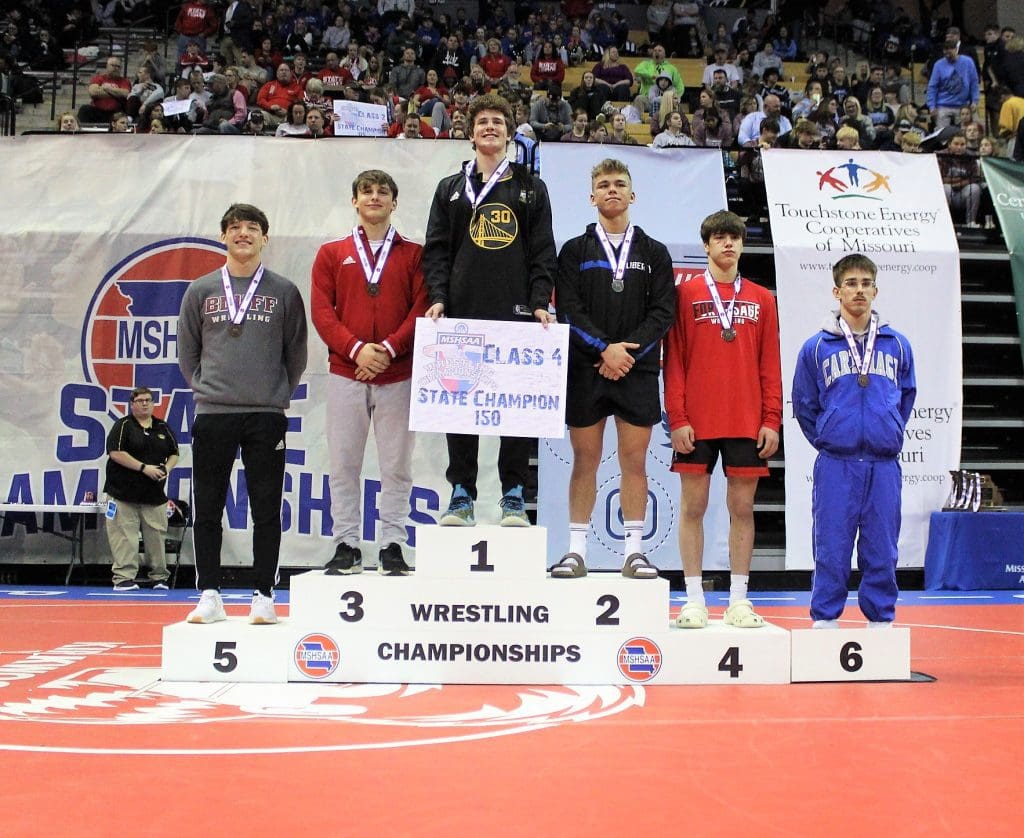 Congratulations to the Carthage Wrestling team for their accomplishments at the State tournament this weekend.
Here are the Carthage Wrestling Results from the Class 4 State Wrestling Tournament in Columbia on 02/24-25/23.
Carthage finished in 18th place with 34 points.
Individual Results
Weight—Name—Grade—Tournament Record—Season Record—Placement
106—Tanner Putt—10—(0-2)—(30-15)—DNP
Lost by decision 2-4 to Calum Brown—Lafayette
Lost by decision 9-10 to Kaison Schreier—Fort Osage
132—Bradyn Tate—11—(3-3)—(48-8)—6th
Lost by decision 2-4 to Jamison Tunstill—Oak Park
Won by decision 6-2 over Gavin Lingafelter—Marquette
Won by decision 8-7 over Chevy Rosales—Francis Howell
***Set a new Carthage weight class(132) record for most match points in a season with 439.  Previously held by Clay Stark('98) with 428.***
Won by major decision 10-1 over Andrew Stubblefield—Eureka
Lost by decision 0-3 to Jamison Tunstill—Oak Park
Lost by decision 0-5 to Noah Keen—Francis Howell Central
150—Grey Petticrew—12—(3-3)—(32-12)—6th
Won by fall in 2:36 over D.J. Dillon—Francis Howell North
Lost by decision 3-5 to Lucas Robertson—Poplar Bluff
Won by fall in 2:36 over Greg Dillon—Blue Springs
Won by fall in 2:04 over Tyler Updike—Oakville
Lost by fall in 0:56 to Braxton Strick—Ozark
Lost by overtime decision 1-3 to Lucas Robertson—Poplar Bluff
165—Davion King—12—(4-2)—(30-4)—4th
Won by major decision 10-0 over Blake Johnson—Lafayette
Lost by decision 3-4 to Tanner Barker—Grain Valley
Won by major decision 10-0 over Logan Hite—Poplar Bluff
Won by decision 2-0 over Lucas Campbell—Ozark
Won by decision 8-5 over Merrick Murray—Staley
Lost by overtime decision 1-3 to Tanner Barker—Grain Valley