With the best wrestlers from across the state of Missouri all in attendance this weekend, Carthage Wrestling made its mark on the competition by carrying through three of its four qualifiers to the second day of competition.
Sophomore Tanner Putt (106 lbs.) was the only wrestler for Carthage that did not make it to the second day's matches.  After a heartbreaker bout with a Fort Osage opponent that was hotly contested, Putt concluded his sophomore season  0-2 at the MSHSAA State Championships.
Junior Bradyn Tate (132 lbs.) kept his medal hopes alive for Saturday's competition.  Tate lost his first match to Tunstill of Oak Park 4-2, but rallied against Lingafelter from Marquette 6-2 to advance to the quarterfinal wrestlebacks.  In a brilliant comeback, Tate faced Rosales from Francis Howell in the consolation match.  Down 7-2 with a little over a minute left in the final period, Tate countered with an escape, takedown and three nearfall points to win the match 8-7.  Tate will next face Stubblefield from Eireka in the third round wrestlebacks.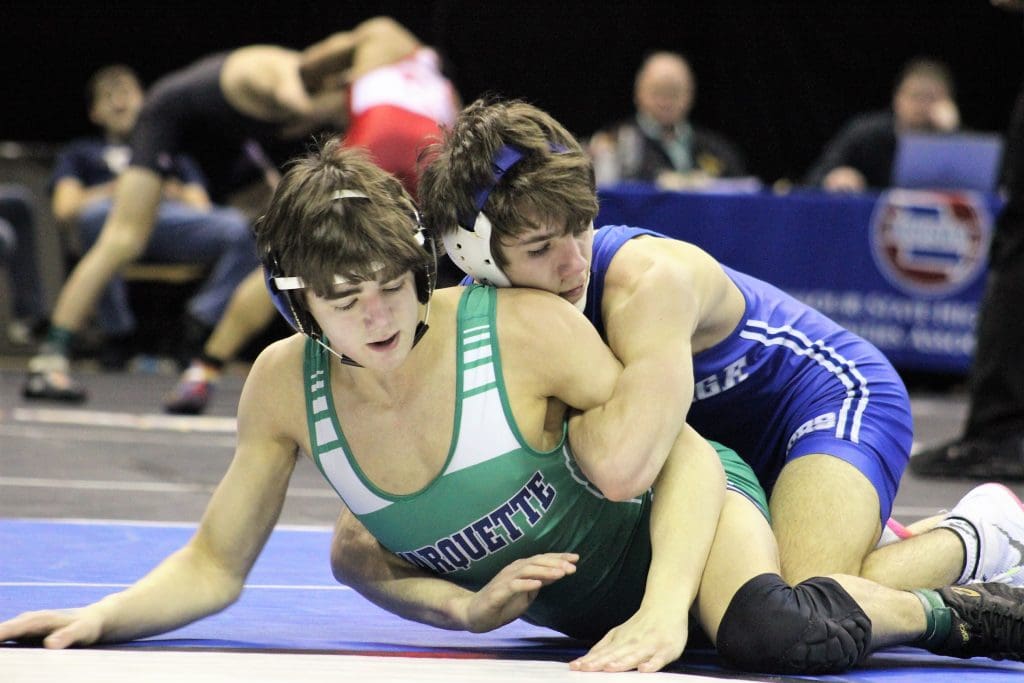 Seniors Grey Petticrew (150) and Davion King (165) won their first matches of the evening, but fell to close matches in the quarterfinals.  Petticrew pinned Dillon from Francis Howell North first round, but lost to Robertson from Poplar Bluff by a score of 5-3.  Then put to the backside, Petticrew dominated Dillon from Blue Springs with another fall.  He will next face Updike from Oakville in the third round wrestlebacks starting Saturday at 12:15 p.m.
Davion King defeated Lafayette's Johnson by a 10-0 major decision in the first round, before a loss to Grain Valley's Barker, 4-3.  King rallied with another major decision over Hite from Poplar Bluff, 10-0 and will face Campbell from Ozark in the third round wrestlebacks.
Wrestling started at 12:15 p.m. with semifinals and third round wrestlebacks at Mizzou Arena.