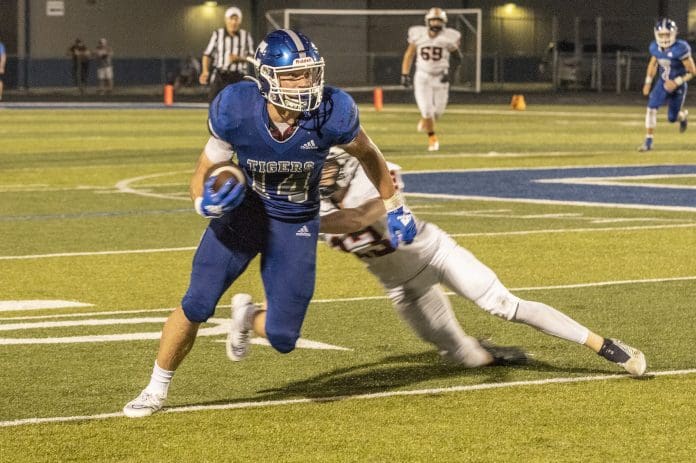 CARTHAGE, Mo. — Carthage Senior Running Back Luke Gall scored six touchdowns and a two-point conversion in the first half to lead Carthage to the 56-26 win over Republic and earn Carthage Coach Jon Guidie his 200th career coaching win on opening night of the 2022 football season.
Guidie, who coached at Cherryvale, Kansas before coming to Carthage, is 200-70 for his career and 153-46 as a Carthage Tigers head coach.
"I've been really fortunate to coach with some really good football coaches and been able to coach some really good football players," Guidie said after he was presented with the game ball after the game. "And I've been doing this a long time so eventually you're probably going to get there. It means a lot, it means a lot to have these guys do it and you could see they were very happy for me which makes me really proud of them."
The game looked like it might be a shootout early on with Carthage converting a partially blocked Republic punt into a 7-0 lead on Gall's first score, a one-yard plunge less than four minutes into the game.
Republic struck back less than two minutes later with a 53-yard touchdown run by Senior Gunner Ellison on third and eight with 7:19 left in the first quarter.
It was all Carthage and Luke Gall in the first half after that.
Gall scored his second touchdown with back to back runs of 17 yards to put Carthage up 13-7 after the missed extra point.
Gall's next score came on the first play of the second quarter on fourth down and two yards to go when he took the direct snap and ran 28 yards to the end zone and the 20-7 Carthage lead.
The Carthage defense stiffened again and forced a Republic punt, but Republic backed Carthage up to its own 19 yard line.
A penalty set Carthage back 10 yards, then Quarterback Jadwin was tackled for a four-yard loss to set up second down and 24 yards from Carthage's six yard line.
That's when Carthage hit the back-breaker, a pass from Jadwin to Gall that Gall took 94 yards for a touchdown and a 27-7 lead with 7:29 left in the half.
Gall said it demonstrated a skill he's worked over the summer to add to his already considerable football repertoire.
"I'm kind of getting out more on the outside because in seven on seven this year I proved to myself that I could run some routes and catch some balls," Gall said after the game. "So it's good that I was able to get in and add a skill set that I didn't have. For the touchdown, it was good to just run hard, but I'm dead after that run."
Gall almost scored on another touchdown reception after a Republic turnover, but the touchdown was nullified by a holding penalty on Carthage.
A 30-yard run by Jadwin would set Carthage up on Republic's five yard line and Gall would score his fifth touchdown of the half.
Gall's sixth touchdown and two-point conversion would come with one minute left in the first half after a Republic fumble set Carthage at Republic's 14 yard line.
Gall finished the game with 14 rushes for 128 yards and five touchdowns and two catches for 116 yards and a touchdown.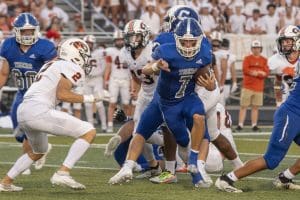 Gall credited first year starting quarterback Jadwin, who led the team in rushing with 166 yards and a touchdown on 13 carries, for great leadership in his first start.
"Cooper is probably one of the most passionate kids you can have," Gall said. "He's a first year starter but he's a senior, he's been playing behind Pat (Carlton) and Caden (Kabance). Me and him are like brothers, we love each other so I think our connection is really good and he just runs super hard and he's a great player."
Jadwin got on the scoring board with a 74-yard touchdown run on the first play of the second half to put Carthage up 49-7.
Republic answered this time with Quarterback Wyatt Woods hitting Receiver James Rexroat on the visiting team's first play of the second half to cut the lead to 49-14.
Republic would temporarily stop the running clock that rolls continuously when one team is up by 35 points by scoring with 9:46 to go in the fourth quarter. Woods hit Ellison for a 50-yard touchdown, one of three touchdown passes on the night for Woods, to cut the Carthage lead to 49-20 after the missed extra point.
Woods was eight of 11 passing for 17 yards and three touchdowns, and he was Republic's leading rusher with nine carries for 86 yards.
"The reality is we got our butt kicked in that first half bad," said Republic Head Coach Ryan Cornelson. "In every aspect of the game, out coached, out played. Man, they just kicked our tail. Now we came back and showed a little bit of class and tried to find some things we could do. The kids, I think, stuck with it and I'm proud of that but it was a butt kicking for sure."
Carthage restarted the running clock 10 seconds later with a 58-yard touchdown run by Aiden Rogers to put Carthage up 56-20 with the extra point.
Republic finished out the scoring with a 14-yard touchdown pass from Woods to Ellison with 2:35 left in the game to make the final 56-26 score after the missed extra point.
Carthage Quarterback Jadwin finished the game with four completions out of seven attempts through the air for 140 yards and a touchdown.
Rogers finished with two rushes for 68 yards and a touchdown. Hudson Moore and Mason Frisinger hauled in one reception for 12 yards each.
Carthage travels to Branson next week for a 7 p.m. matchup with the Pirates.