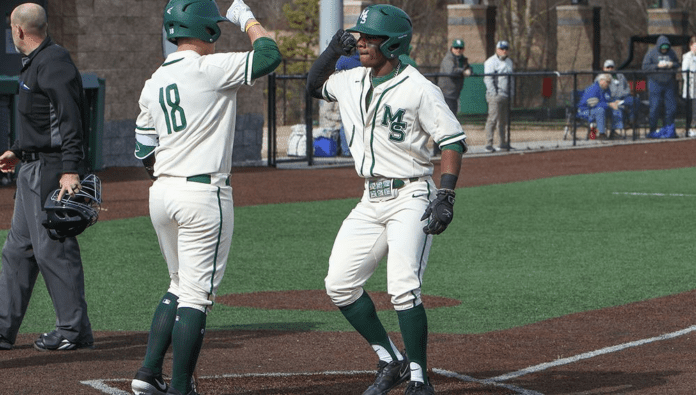 Joplin, Mo. – The Missouri Southern baseball team scored 12 runs in the second inning en route to a 14-1 win over Missouri S&T in the final game of the 2021 MIAA/GLVC Crossover today at Warren Turner Field.
The Lions (6-0) had a monster inning scoring 12 runs in the second capped by six RBIs in the inning from Dexter Swims on a pair of bases-clearing doubles. Troy Gagan had three RBIs in the inning that saw the Lions bat around twice.
In total Swins went 2-for-3 with six RBIs and two runs scored. Gagan was 2-for-4 with three RBIs and a run scored, while Henry Kusiak, Joe Kinder and Clay Milas scored a pair of runs each. Kusiak was 3-for-4 with an RBI and a pair of runs, while Ryan Hunter scored three runs of his own. Brad Willis scored a run and had a hit, while Tommy Stevenson drove in a run of his own on a pair of hits. Kusiak and Swims had a pair of doubles.
Will Bausinger started the game and went five innings, striking out nine and walking just two, while scattering a pair of hits and holding the Miners scoreless. Cale McAllister threw the sixth, while Blake McPhee and Ryan Paschal threw the final inning for the Lions.
The Lions will be back in action this weekend as Southern starts up MIAA play and will host Emporia State on Saturday and Sunday. The games were originally scheduled for Friday and Saturday, but have been pushed back a day. Both days will start at 1 pm with a double-header on Saturday and a single game on Sunday.
Source: https://mssulions.com/news/2021/2/22/baseball-big-inning-lifts-lions-over-miners-14-1