Mississippi, Utah, and many other states are lining up and have already passed language to protect our kids and teens.  The Save Adolescents from Experimentation (S.A.F.E) Act is a priority for my constituents, and it is a priority for me.  In fact, this was the top priority for my constituents who filled out my constituent survey at our district's Lincoln Day Banquet.  Last week, this bill to protect children from gender transition surgeries and chemical castration came to the Senate floor.  Debate was shut down by Republican leadership on Tuesday to attend an awards ceremony to honor the Minority leader.  The following day, Wednesday, debate began again and a vote was taken within the Republican Caucus to continue debate through Thursday or to close down debate each evening.  I was disappointed that not only did we shut down debate Wednesday evening, but the decision by leadership was made to shut down a day early for spring break.  Due to the shock of seeing the unwillingness within our party to continue discussion, a letter was drafted and signed by those who wanted to convey their commitment to this issue.  My expectation and hope is that this issue will be a priority when we come back from spring break.  The decision to shut down early was a surprise to all of us.  Protecting our kids is not a Democrat or Republican issue, it is an American issue.
Medicaid Expansion turned Medicaid Reform
In this podcast with Senator Bill Eigel and Senator Ben Brown, I discuss my vote and negotiations on SB 45.  I voted against this bill in committee but was able to work with the bill sponsor to address my concerns.  This bill passed the Senate and will be sent over to the House.  Senator Nick Schroer hosts the second half of the podcast which you can listen to here.
Defending the Second Amendment Preservation Act
Last week, a United States District Judge ruled that the Second Amendment Preservation Act is unconstitutional.  I signed a letter, along with some of my colleagues, encouraging Attorney General Andrew Bailey to defend SAPA and appeal this decision.
Homeschool Activities – Opportunity to Play Act
This week, I presented SB 230 before the Education and Workforce Development Committee alongside Senator Ben Brown and several inspiring homeschool students from my district.  My SB 230 and Senator Brown's SB 411 would allow homeschool students the opportunity to participate in co-curricular and extracurricular activities offered through their local public school district.  Eight-year old Melody came all the way from Joplin to present some fantastic testimony to the committee.  Judah, Jonah, Sierra, Matthew, and Lydia, all homeschool students from my district, also drove over three hours to come testify at the early morning hearing.  There was no testimony in opposition.  You can watch my presentation and their testimony here.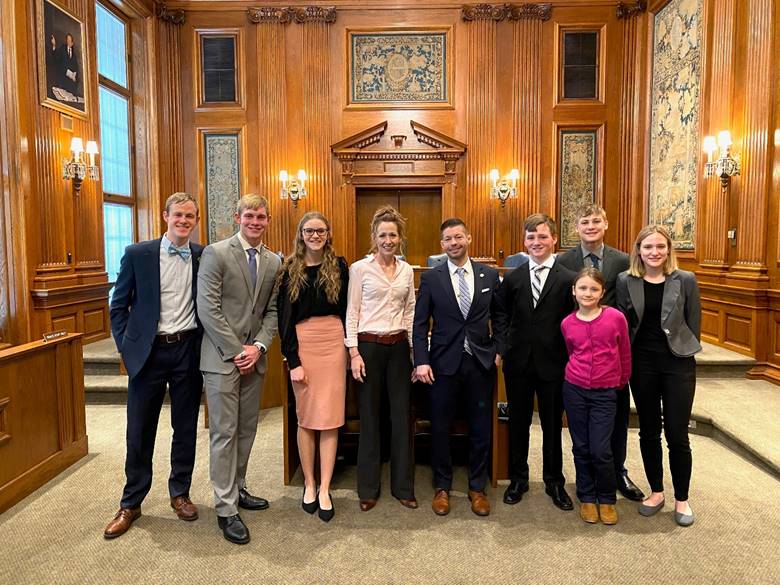 Gubernatorial Appointment Chris Williams
I had the privilege of sponsoring Chris Williams' appointment to the Missouri Mining Commission.  Chris Williams has a wealth of experience in mining and a record of service to his nation. For the last sixteen years, Chris has worked in below ground and above ground limestone mining operations and has served as the Vice President of operations at two Missouri limestone companies with operations all over the state. Before entering the limestone industry, Chris served as a Marine in Iraq and I am glad he will have the opportunity to serve our state on the Mining Commission. Chris will be the first active miner in one of the commission's two slots for miners since 2013.
Kim Gardner
I signed a remonstrance along with every single Republican Senator in Missouri urging Saint Louis Prosecuting Attorney Kimberly Gardener to resign.  Senate Remonstrance No. 1 can be seen with all the Senators' signatures as well as read in its entirety here.
Legislation Recently Passed by the Missouri Senate
In the last few weeks, the Senate has Third Read and passed several pieces of legislation.  Below, I link to these bills.