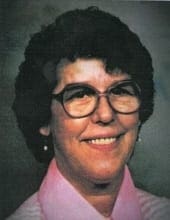 Shirley Donna Leiser, 83, formerly of Carthage, passed away Sunday, October 21, 2018.
Preceded in death by her husband Layton Leiser; mother Myrtle Conn; step-father Ralph W. Conn; sisters Connie Wagner and Gloria Petro.
Survived by her sons Bud L., Donald R (Debbie), Keith A., and Michael R. Christiansen; step-son David (Kathy); daughters Cindy Lucas, Kate Johnson, and Patti (Vernon) Rickards; step-daughter Cheryl; sister Kelly Steffen; brother-in-law Richard Wagner; 15 grandchildren; 46 great grandchildren; 6 great–great grandchildren; nieces and nephews.
Funeral services will be held 10 am, Monday, October 29, 2018 at Knell Mortuary, Carthage. Rev. Ron Franklin will officiate. Interment will follow the service at Ozark Memorial Park Cemetery, Joplin. Online condolences may be expressed through www.knellmortuary.com. Arrangements are under the direction and personal care of Knell Mortuary.