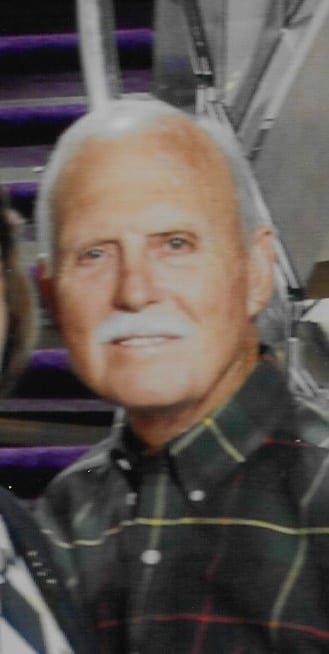 Frank Dale Carmichael, age 81 of Joplin, MO, went home to be with his heavenly Father on Wednesday, October 17, 2018, after fighting a courageous battle against cancer. At the time of his passing, Frank was surrounded by his loving wife and other family members.
Frank was born on October 10, 1937, in Sarcoxie, MO, to the late Edward and Mena (Burkey) Carmichael. His father passed away when he was just two years old. Out of his love for his mother he began at an early age working to help support the family. He was a lifetime resident of the area with the exception of four years spent in California.
He married Colleen Kloberdanz on December 30, 1972; she survives. Additional survivors include three sons, Ed Carmichael of Tulsa, OK, Rick Carmichael and his wife Debbie of Port St. Lucie, FL, Scott Carmichael of Shell Knob, MO; one brother, Harry Carmichael of Sarcoxie; two sisters, Donna Carmichael of Carl Junction, MO, Anna Marie Canfield of Kansas City, MO; five grandchildren and five great grandchildren and many nieces, nephews, cousins, in-laws, numerous friends and a very exceptional brother-in-law, Greg Kloberdanz, to whom Frank was guardian and someone he loved like a son. Frank also leaves behind his very faithful dog, Sophie. Frank was preceded in death by his parents, a granddaughter, a great granddaughter, his brother Quintus and two sisters, Norma Jean Davidson and Martha Osborn.
During his high school years, Frank delivered newspapers for several area publications and attended both Sarcoxie and Carthage High School. He was very active in sports, especially football. Frank was chosen as an outstanding football player by the United States and District of Columbia and was designated as a member of the National High School All-America Football Team. Upon graduation from high school, he moved to California and worked for Smart and Final Grocery Firm and attended Fullerton State Junior College. He returned to Carthage, MO, in 1960 where he worked at AAA Auto Insurance, Eagle Picher, Rocketdyne, and was a manager with KPL Gas Service/Missouri Gas Energy, Southern Union, retiring in 1994.
Frank was involved in civic and community activities as well as organizations at various stages of his life. He coached baseball and peewee football and volunteered countless hours at the concessions stand at all the Carthage Junior High ballgames. He was active in the Carthage Booster Club, Rotary Club, Lions Club, Jaycees and the Masonic Lodge. Throughout his life he enjoyed golfing, fishing and traveling throughout the USA and Canada. One of the highlights to his travels were the cruises his wife and he went on. Frank also enjoyed time spent with his sons camping, fishing and canoeing.
Frank was a man of great faith and deep convictions with a good moral compass. Every morning he started his day talking with the Lord and praying. He was health conscious and walked daily with his faithful little girl by his side. Both Sophie and Frank were very social creatures, stopping to visit with neighbors on their daily walks. Frank was a selfless man who possessed a positive attitude and would give you the shirt off his back. He was a jewel to his wife. He influenced and impacted many lives. We give thanks to the Lord for placing this wonderful man in our lives. Frank was such a blessing. He will be greatly missed by all who knew him, especially his wife and his faithful four-legged companion, Sophie.
The family wishes to thank Dr. Andelin for his impeccable bedside manners and the Mercy Hospital staff that were so attentive to Frank's needs during his final hours. A special thank you to Hailey Scobee, his physical therapist, that never gave up on him.
A memorial visitation has been scheduled from 6-7 p.m. Monday, October 22, 2018, at Mason-Woodard Mortuary. A graveside committal of ashes will occur at a later date.
In lieu of flowers donations may be made to the Joplin Humane Society in care of the mortuary.
Arrangements have been entrusted to Mason-Woodard Mortuary & Crematory.