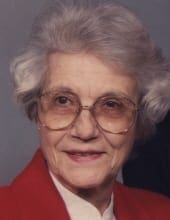 Dorothy M. Knell, 96, Carthage, passed away Friday, October 12, 2018 at the Oak Point Assisted Living Center, Carthage. Dorothy Mae McWilliams was born February 27, 1922 in Carthage, a daughter of the late John McWilliams and Lillie Mae Johnson McWilliams. She was a graduate of Carthage High School, Class of 1939 and prior to marriage worked at the Scotts Store, Carthage and was a secretary for Max Hahnen Realty. She married James Willard Dalton on July 4, 1941, he preceded her in death on February 10, 1961. During her marriage to Willard, she and her family traveled and lived in Japan, Okinawa, Chillicothe, MO and Kansas City, MO before moving back to Carthage. She married Frank W. Knell, Jr. on March 17,1962, he preceded her in death on August 21, 2003. Dorothy and her husband were owners and operators of Knell Mortuary, Carthage, MO, until Frank's death in 2003. Dorothy was an active member of the First Presbyterian Church, Carthage, where she served as a trustee, Women's Alter Guild, deacon and clerk for Presbyterian Church Session, as well as member of the Presbyterian Women's Group. Dorothy was also a member of the Rhoda Fairchild Chapter DAR of Carthage.
Survivors include a daughter, Janice L. (Neel) Baucom, Carthage, a son, John W. (Maureen) Knell, Overland Park, KS; five grandchildren, James N. (Jean) Baucom, Lenexa, KS, Justin N. (Kelsey) Baucom, Carthage, Hayden Knell and Sloane Knell, Overland Park, KS and Sheila (Adam) Dalton Crews, Orlando, FL; five great grandchildren, Anna Baucom, Charlie Baucom, Austin Crews, Sagan Baucom and Jordyn Crews. She was also preceded in death by two daughters; Julie Ann Knell and Joyce Lea Dalton Leuthen; a son, James M. Dalton; a daughter-in-law, Georgia Dalton; three sisters and five brothers.
Visitation will be held from 1:00 – 2:00 PM, Wednesday, October 17 at Knell Mortuary, Carthage, MO. Funeral services will follow in the Knell Mortuary Chapel. Rev. James Lee, First United Methodist Church, Carthage will officiate. Interment will be in Park Cemetery Carthage. Memorial gifts are suggested to the First Presbyterian Church, Carthage or Avalon Hospice in care of Knell Mortuary, P.O. Box 544, Carthage, MO., 64836. Online condolences may be expressed through www.knellmortuary.com. Arrangements are under the direction and personal care of Knell Mortuary.