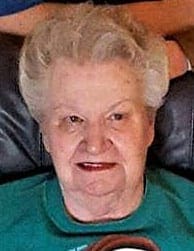 Barbara N. Brown, 81, passed away Thursday, October 25, 2018 at her home in Carthage. Barbara was born June 22, 1937 in Wichita Falls, TX to Clarence "Buddy" and Olive V. "King" McWhorter. Barbara was a resident of Carthage since 1959 and was very active in her community. She was a homemaker and an administrative assistant to her husband's real estate agency. Barbara was a member and Sunday school teacher at Forest Park Baptist Church, along with assisting in their church bus ministry. She belonged to a local bridge club, bowling league and golf league. She was a volunteer for Meals On Wheels and at Precious Moments, along with other community activities. Barbara loved to paint and enjoyed many other arts and crafts.
Barbara was united in marriage to James "Mel" Brown on October 10, 1959 in Wichita Falls, TX; he preceded her in death on October 20, 2013.
Barbara is survived by her son Wes Brown and wife Guyla of Webb City and her daughter Rebecca Randles of Kansas City, as well as three grandchildren.
Visitation will be held from 1:00 p.m. to 2:00 p.m. on Friday, November 2, 2018 at Ulmer Funeral Home. A Celebration of Life will follow at 2:00 p.m. Burial will be at Fasken Cemetery, northeast of Carthage.
Memorial contributions may be made to the Salvation Army in care of Ulmer Funeral Home.
Online condolences may be made at www.ulmerfh.com.
Arrangements are under the direction of Ulmer Funeral Home.