As Andrew Pennington approached a shoulder-high vine in his vineyard last week, he pointed to a small green cluster and said, "This is where the story begins."
Every bottle of wine produced at Pennington Wines southeast of Carthage is a story, and – literally – the fruits of a lot of hard work. This time of year is dedicated to pruning and canopy management as the Pennington family pursues a passion for excellent wine – a pursuit that holds a rich history in the state of Missouri.
"I don't think people realize the depth of wine-making in Missouri," Pennington said. "At one time it was the lead wine producer in the country. The rocky, well-drained, hard soil makes for a better wine."
Standing amongst his 1,498 vines, he gestured toward them and said, "I'm already making wine … I'm just keeping it happy until it reaches a glass."
But until that cork can pop, there are plenty of challenges along the way. One, the perseverance needed in the art of pruning each vine. This week, Pennington expected the vines to flower as he and his family prune excess branches and keep weeds at bay. After use, the pruning tools are cleaned with alcohol and carefully stored.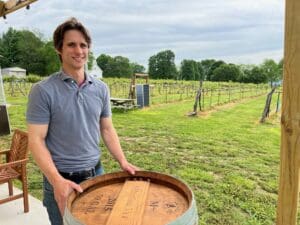 It takes five to six years for a grape vine to mature – and for some young vines producing already – Pennington said it's tempting to see usable grapes when mid-August comes and it's time to start harvesting.
"You can actually reduce a vine's life by picking grapes too early so you can't get greedy with these girls," he said, looking closely at a one-year vine.
The next obstacle is an ongoing battle with mold and fungus. The humidity can worsen these challenges, but Pennington says he uses a natural remedy … baking soda. The roses planted on the end of each row certainly are aesthetically pleasing but they serve as a warning signal to the vineyard.
"If anything is happening, it shows up on the roses first," Pennington said. "Roses are very sensitive, and if I see it on those first, it means it'll be quickly spreading to the vines."
Even a healthy vineyard loses 2 to 3 percent of its vines every year, but each vine is replaced by a certified nursery. This kind of replacement also occurs if there happens to be a dreaded frost.
"We were out here with about 30 small fires surrounding the vines," Pennington said. "It's picturesque and romantic looking, but it's a miserable time."
The family does what it must to protect the grapes; which will in turn produce four varieties – Norton, the Missouri state grape; Vignoles, a French/American; Sangiovese, Italian; and Cayuga, a Riesling /Moscato. Each unique harvest can bring out different tastes; and Pennington loves sharing those stories as he pours.
"I absolutely love doing this," he said. "I love sharing what I know with people who want to come out, enjoy wine in the place where it grew, and relax with a small event or tasting."
So far in this endeavor he began in 2011, Pennington has expanded the vineyard, constructed a beautiful tasting scene and a production building – where grapes are crushed, aged, blended, bottled, corked and labeled. It makes a tight circle and remains within feet of the whole process; which is a 4,000-gallon tank capacity that equals to 30 tons of grapes … resulting in 20,000 bottles.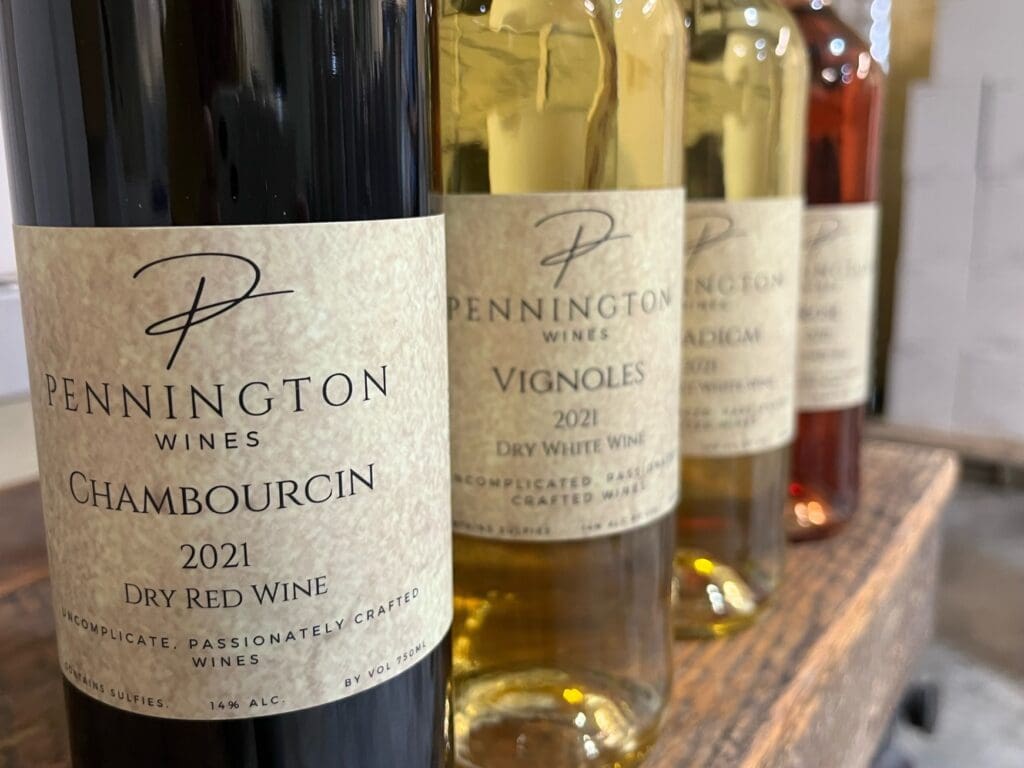 Those bottles with the signature P label can be found at local craft vendors, and by reaching out directly to Pennington Wines. Andrew Pennington – a Carthage High School Class of 2005 graduate ­– says small gatherings are welcome to schedule a tasting through social media. When you have a bottle in your hand, be sure to scan the QR code to read more about it.
The vineyard is located at 11822 Elm Road (east of the Big Red Barn RV Park) southeast of Carthage. Not only do visitors get to meet Andrew and his wife, Amanda, but Andrew's parents Doug and Diane, other family members (some who enjoy rides in little wagons) and Nanook – a white fluffy dog who is excellent at alerting the family of guests.