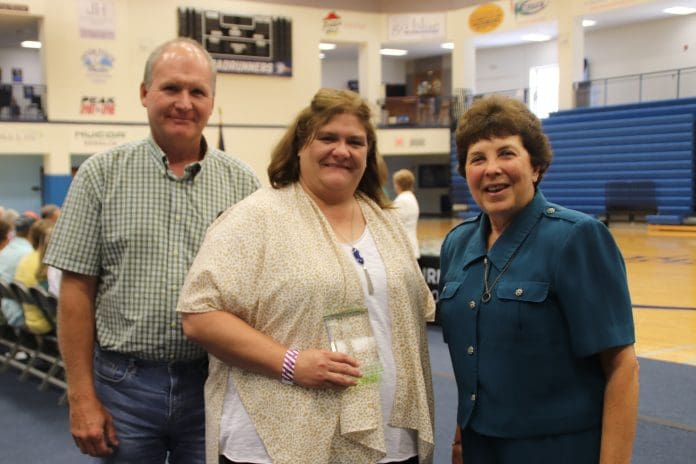 "Making the best better" for generations of Missouri 4-H club members, Lori and Eugene Meyer of Sarcoxie were inducted into the 2022 Missouri 4-H Hall of Fame on August 20 at State Fair Community College in Sedalia.
The Missouri 4-H Foundation recognizes individuals who have created a legacy of service to 4-H by honoring them with membership in the Missouri 4-H Hall of Fame, said Rachel Augustine, director of the Missouri 4-H Foundation
"The 4-H program would not be possible without our dedicated volunteers. They are the backbone of 4-H, supporting and nurturing thousands of young people every year. We are proud to recognize these dedicated people who have helped shape 4-H history," Augustine said.
Inductees from 34 counties established a legacy totaling 1,042 years of service to 4-H. 4-H friends and family members attended the 16th annual event sponsored by FCS Financial and the Missouri State Fair in partnership with the Missouri 4-H Foundation.
Lori and Eugene have been project leaders for many years. Lori was a project leader and club leader of Sarcoxie Chiefs 4-H. During Chief Sarcoxie Days she oversees the cook shack while Eugene is in charge of the livestock show. Lori also served as the Jasper County 4-H Parents' Association President and Eugene has helped train and transport the livestock judging team to state and national contests. For over 26 years Eugene has been an agriculture teacher/FFA advisor at Sarcoxie High prior to that he had the same role at Carl Junction High School. Both Lori and Eugene are leaders in the Charolais Cattle Association. Eugene also announces many of the shows and events at the Jasper County Youth Fair each year and served as the beef superintendent for many years. Lori and Eugene have not only been leaders in their 4-H program, but in the community as well with years of dedication and service.
"We are eternally grateful to the more than 7,000 volunteers who provide mentorship and guidance to our youth, helping them become leaders and responsible adults," said Dr. Lupita Fabregas, director of the University of Missouri Extension 4-H Center for Youth Development.
"Now, more than ever, we must celebrate and thank them for the years of service they have dedicated to educating young people. Year after year, our volunteers—like the ones we celebrate today—continue to demonstrate the true meaning of devotion, compassion, and commitment, helping us build a better future for the next generation of Missourians," added Fabregas.
About Missouri 4-H
Missouri 4-H is an active, dynamic organization of young people who are learning, growing and preparing to be the leaders of today and tomorrow – making a real difference in their community, country and world. 4-H is the youth development program of the University of Missouri and the nation's Cooperative Extension System. For more information on Missouri 4-H, visit 4h.missouri.edu.
About the Missouri 4-H Foundation
The Missouri 4-H Foundation is the independent philanthropic partner of the University of Missouri Extension 4-H Center for Youth Development. For more than 70 years, the foundation has secured and managed funds for Missouri 4-H, providing higher education scholarships, recognizing 4-H volunteers and supporting the work of MU Extension 4-H. Learn more at 4h.missouri.edu/foundation.