JOPLIN, Mo. — Artists of all ages gathered Friday evening to celebrate the winners of an inaugural spring art competition in Joplin.
Elements Art Gallery and Studio – located in Joplin but owned and operated by Carthage artists Kristen Hawkins and Cher Jiang – invited young, local artists to get creative and submit their best works. A long line of beautiful acrylics, mixed media and an engraved leather piece brought smiles and congratulations from all of the supporters at the event.
"Look at the amazing things you've done," Hawkins said to the crowd. "We're so proud of you all and what this community has done. It was very difficult for our judges to choose and we want to congratulate you all."
The winners are:
Tie for First
Abby Burton – home school eighth grader with an acrylic "Marilyn."
Mikey Allen – home school sophomore with the engraved leather piece "Western Bloom."
Charlie Baucom – Carthage sixth grader with an acrylic "Spring Mushrooms."
Tie for Second
Mila Covvey – Carl Junction sixth grader with a mixed media "Quest."
Autum Schisler – Thomas Jefferson seventh grader with acrylic "Everything Snack."
Avery Dayringer – Galena High School junior with acrylic "Date Night."
Tie for Third
Chloe Blotter – home school junior with acrylic "Verdent Virtue."
Airean Meyer – Joplin High School freshman with acrylic "Waterfall Canyon."
Lucas Norton – Carl Junction fifth grader with acrylic "Moonlight."
Honorable Mentions: Gracie Allen, Layla Laney, Emma Ogle, Micah Schisler, Emory Williams, Gabby Allen, Kaelynn Swartz, Kamri Sexton, Brooklyn Hiller.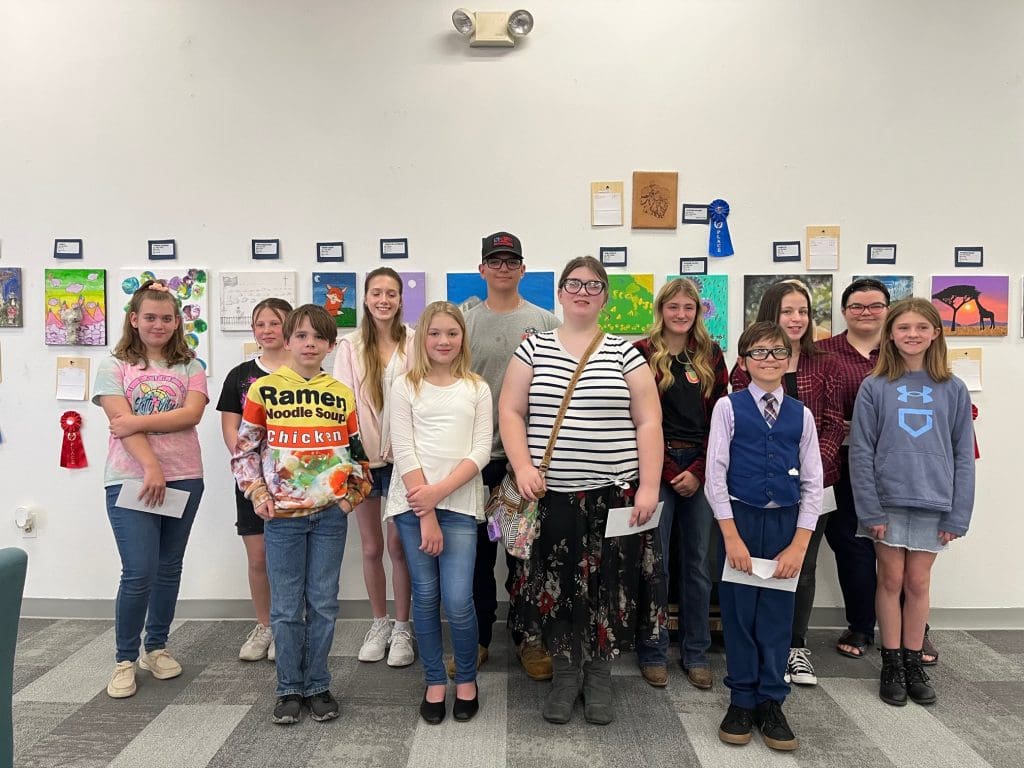 For many of these artists, this was their first art competition. That was the case for Baucom, who loves any form of art – currently on a crochet kick.
"It's relaxing," she said. "I like seeing the final result of what I'm working on. It feels good [to tie for first place] I'm very happy with how my piece turned out."
Bill Harris, the financial backer of the event, was pleased with the turnout and said he hopes the competition continues to provide encouragement to any aspiring artist. Read the origin story of this art show here.
Elements Art Gallery and Studio is located at 2207 W. 7th St. Suite 8, Joplin. The gallery showcases a wide variety of artists both local and international, and hosts many kinds of workshops and events. Learn more about the gallery here.