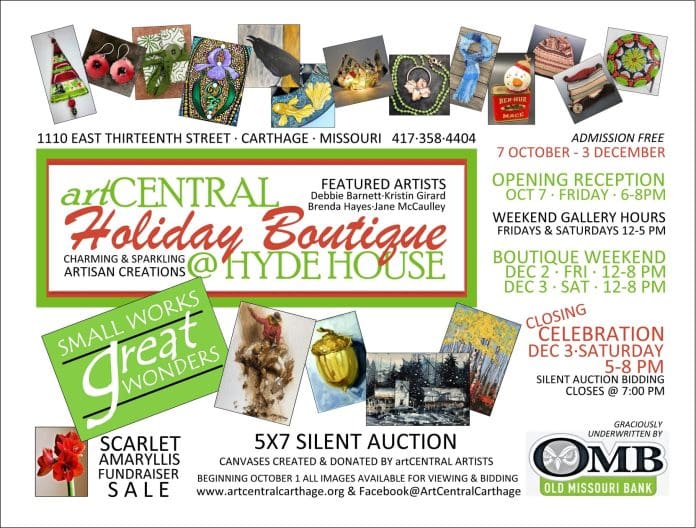 The scarlet amaryllis bulbs have arrived—imported from Amsterdam and swaddled in Mother Nature's very best papery thin wrappers, they are filled with life and beauty waiting to be born and bring an accent of beauty in a home or office or business.
For today these treasures are all in residence at the greenhouse next door in the expert care of nurseryman Carlos Lopez. He is vigilantly watching over them and timing their radiant emergence to be blooming perfectly for the holiday season. How serenely elegant they look with their very first hints of tender green leaves and buds silently peeking out of their soft beds of Spanish moss.
The genus name "Amaryllis" comes from the Greek word "amarysso"—an ancient female name that means "sparkling" or "to sparkle". Greek mythology tells us that Amaryllis was a shepherdess who loved Alteo, a strong and handsome shepherd. He had a passion for flowers. Looking into the symbolism of the Amaryllis we learn this flower signifies pastoral poetry as well as determination, exquisite beauty and pride.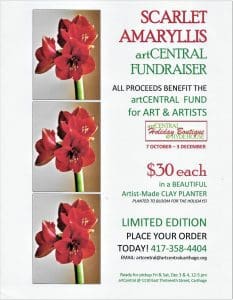 Have you reserved your purchase of one Amaryllis or more? At $30.00 each, every amaryllis comes embellished with a tastefully festive bow and a set of simple care instructions. All proceeds are dedicated to artCentral's work on behalf of the art and artists that enrich the cultural life of Carthage and our neighboring communities.
Shop local! Shop at artCentral and support your hometown arts center! Place your order today by phone to (417) 358-4404 or text to (417) 825-0706 or email to artcentral@artcentralcarthage.org.
Do not delay! These treasures will sell out quickly for this year's limited edition amaryllis beauties are presented in clay planters handmade by artCentral artist board member Cheryl Church (2022 Missouri High School Art Teacher of the Year) with assistance from one of her high school art students and Fred Minert, Carthage Junior High art teacher.
Each artistically unique planter in this harmonious choir is lusciously bathed in a beautiful, oh-so-soft lichen-tinted matte glaze. Each is simply exquisite! I would love to purchase a dozen to take home and give to family and friends, but instead I will graciously claim only two and leave the rest for you.
The 2022 artCentral HOLIDAY BOUTIQUE includes the Amaryllis Fundraiser as well as the gift boutique featuring a plethora of artist-made shopping selections plus the SMALL WORKS | GREAT WONDERS Silent Auction. All are underwritten with the gracious support of Old Missouri Bank and are available for your viewing, purchasing and bidding in Hyde House, 1110 East Thirteenth Street, during weekend gallery hours, Fridays and Saturdays, 12:00-5:00 p.m., as well as online 24/7 every day at https://www.facebook.com/ArtcentralCarthage/photos_albums and artcentralcarthage.org.
For the Thanksgiving weekend gallery hours, artCentral will be closed except for visits scheduled by appointment at (417) 358-4404.
Do come and shop local at Hyde House. Find the 5×7 Silent Auction creations that speak to your heart, and place your beginning bids (most start at $10.00) or claim a really special canvas for an affordable "Buy Now" bid.
When you visit the HOLIDAY BOUTIQUE  and place your Amaryllis order you are sure to feel the holiday spirit of giving and gifting has a home in your heart. With artCentral in your heart please make your donation on Giving Tuesday, November 29 by phone to (417) 358-4404, on Facebook at https://www.facebook.com/ArtcentralCarthage/ or at https://www.artcentralcarthage.org/give4art-fund.html.