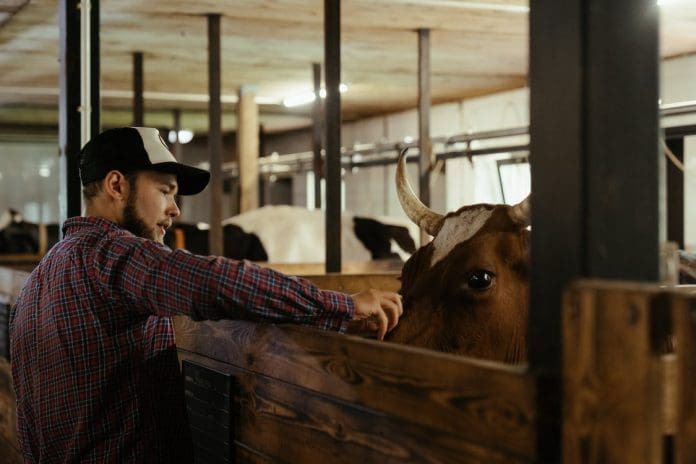 STOCKTON, Mo. — "As the upcoming breeding season approaches bulls need to be tested to make sure they are ready," says Patrick Davis MU Extension Livestock Field Specialist.  The bull breeding soundness exam (BSE) is a test done by a veterinarian.  Davis will further discuss why this test is needed as your bulls enter the breeding season.
"The BSE evaluates reproductive soundness of the bull to make sure he will have optimum success in the upcoming breeding season," says Davis.  The internal and external reproductive tract is evaluated to determine that these structures are sound for breeding.  Also, semen motility and morphology are evaluated to make sure quality is adequate for optimum conception rates.
"During the BSE bull structural soundness is evaluated to make sure bulls are sound enough to breed cows," says Davis.  The bull's foot and leg structure needs to be evaluated to make they are sound enough to breed cows during the breeding season.  For more information look at guides from the angus and red angus breed associations:
https://www.angus.org/performance/Documents/footscorebrochure.pdf
https://redangus.org/wp-content/uploads/2021/08/Foot_and_Leg_Scoring_Guidelines_2021_web.pdf
"Bull body condition score (BCS) is evaluated to make sure bulls are in ideal energy status as they enter the breeding season," says Davis.  Davis urges cattle producers to manage bulls at a BCS 6 (which is a smooth fat cover appearance throughout) as they enter the breeding season.  This ensures bulls have adequate energy reserves to maintain themselves and achieve adequate conception rates during the breeding season.
Make sure bulls are provided vaccinations and parasite control during the BSE to promote optimum health as they enter the breeding season.  Work with your veterinarian to develop the optimum health program for your bulls.  Also consult MU Extension Guide Sheet g2044 (https://extension.missouri.edu/media/wysiwyg/Extensiondata/Pub/pdf/agguides/ansci/g02044.pdf) when developing a vaccination program for your herd bulls.
"MU Extension wants to provide cattle producers education on bull management and to collect bull data for use during programming," says Davis.  To that extent Davis is working with SW MO veterinarians during their bull BSE days to provided education on bull management to cattle producers.  In addition, Davis will evaluate and provide education in the areas of BCS and foot scoring.  Also, during these days, the veterinary clinics below, in cooperation with ZOETIS, may provide rebates on vaccination and parasite control.  If you choose to be apart of this educational effort and get your bulls tested, contact the veterinary clinics below to reserve a spot to get your bull tested on the day list:
October 5th
Barry County Veterinary Clinic, Cassville, MO
(417) 847-2677
October 17th
Dake Veterinary Clinic Miller, MO
(417) 510-5105
October 19th
Diamond Veterinary Clinic, Diamond, MO
(417) 325-4136
October 20th
Countryside Veterinary Clinic Aurora, MO
(417) 678-4011
"Whether you test your bulls through the BSE days or with your local veterinarian, get them tested," says Davis.  Using bulls with poor fertility or structural problems hinders their ability to breed cows causing an excessive number of open cows, and less calves to sell, which leads to reduced operation profit potential.  For more information related to the bull BSE days or bull management contact Davis at the Cedar County MU Extension Center at (417) 276-3313 or by email at [email protected].