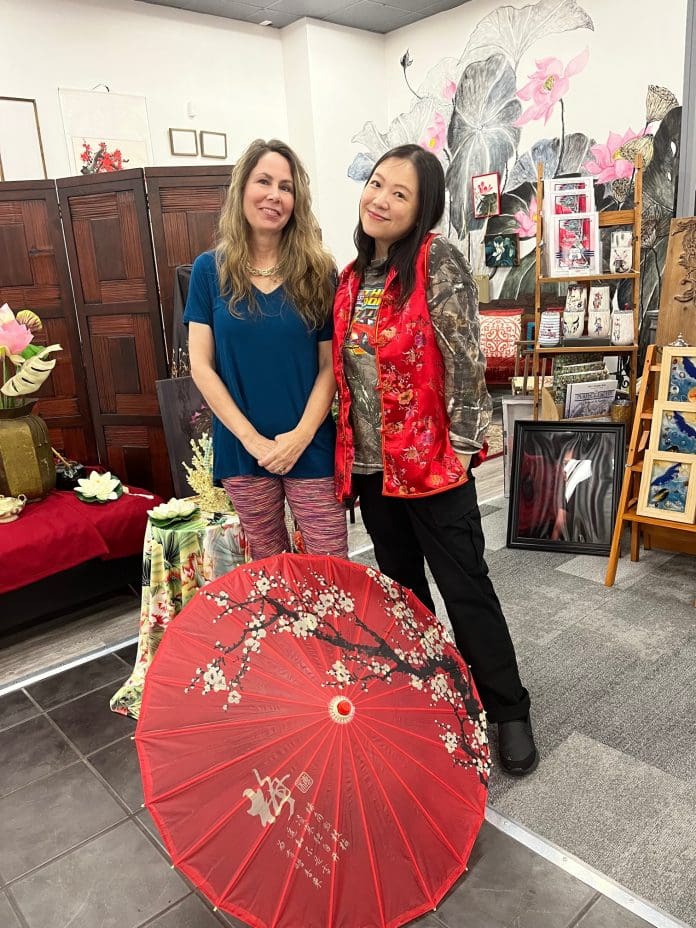 Christmas came a little early for some Carthage artists – the Joplin Chamber even provided a big, bright red bow for the event.
A ribbon cutting was held Friday for the Elements Art Gallery and Studio which opened this past summer – a "dream come true" according to its owners, Carthage artists Kristen Hawkins and Cher Jiang.
"I've wanted to do this my whole life," Hawkins said. "We have artists from all over the world and local artists showing here, and I think it makes for a healthy gallery. It's good to have new and different cultures and always something unique to enjoy."
Her business partner, Jiang is originally from Chengdu Shi, Sichuan, China, and is an award-winning illustrator. Always delighted to meet fellow countrymen, Jiang connected to the Chinese families who operate FU Noodle House on 7th Street. It was this meeting that started to bring the art gallery idea into fruition … next door. Jiang also joined that business venture and made sure the art event Friday offered samples of authentic Chinese food.
"Have you tried it yet? It's been open half a year and it's wonderful food," Jiang said. "It's real Chinese food – no one else around here has food like it. You would have to travel a long way from here to have anything like it."
Jiang's showcase at the gallery is a reflection of her artistic growth since she first came to the U.S. in 2007. From adorable fairytale scenes and children's books – which are international – to her fashion designs and incredible, life-like fish in seashells. The pattern of her life so far is: She sets a goal, and achieves it.
"My new vision is to promote art," Jiang said. "A beautiful place where people can come enjoy and learn. It reduces your trouble and gets rid of bad things. You want happy life, a healthier life to live – add art."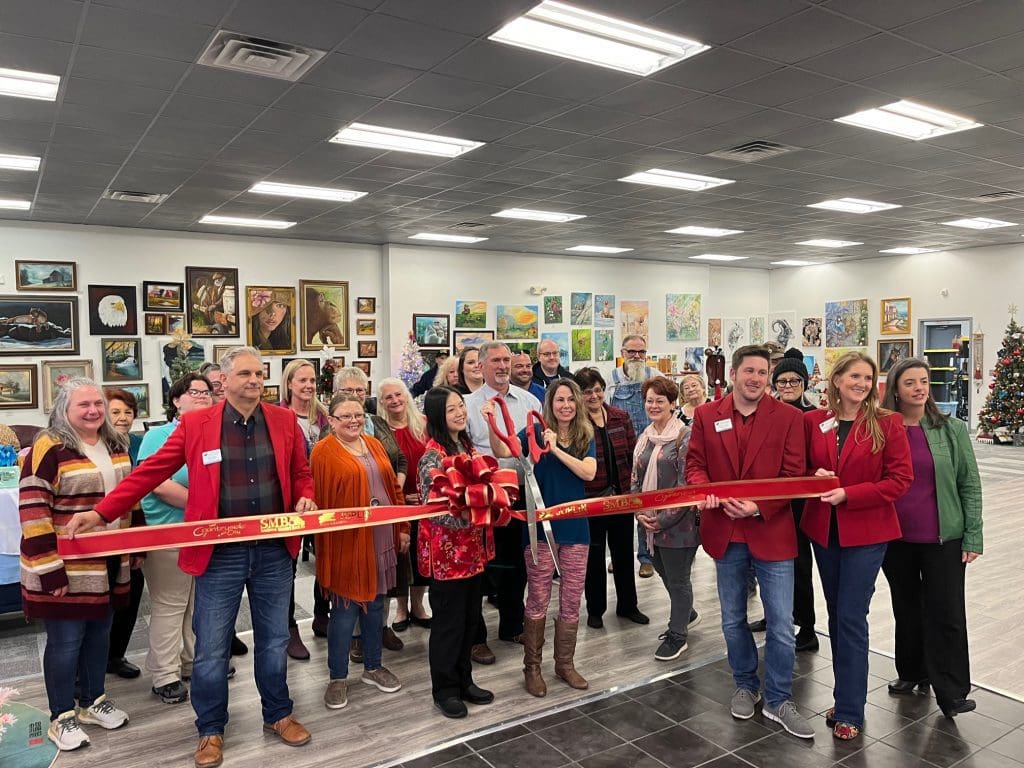 And opportunities abound at Elements for novice artists. There are always workshops scheduled at the gallery in vast varieties – from wood-burning, painting, stained glass to sketching. While surrounded in the showcase of 23 diverse artists, any artist of any age can come and leave inspired.
"Their excitement is contagious," said artist Bill Harris. "They welcome everyone and are always so kind to any artist. I hope to have an art competition for kids, for the simple goal of encouraging them to continue art – and not let anyone discourage them from it."
Carthage artist Misty White said her work was something she thought, "she could never do." But today, her beautiful work compliments the gallery.
"I could cry talking about this because I'm amazed and blessed to have my art here," White said. "Cher was so generous to reach out to me, and to be a part of this – it's overwhelming to me."
The list of artists showing at Elements is always growing, but currently visitors enjoy the works of: Connie Miller, Kathy Wilson, Karen Taylor, Misty White, Cher Jiang, Kristen Hawkins, Janice Kinman, Efren Lopez, Cheryl Church, Brenda Sageng, Wolfgang Lass, Daria Claiborne, Ginger Copeland, Josh Kersen, John Knell, Cerisa Dayringer, Steven Binam, Mary Jane Houston, Robin Vale Designs, Jacque McDonald, Valerie Okert, Roxanne Kendall and Richard Goss.
Elements Art Gallery and Studio is located at 2207 W. 7th St., Joplin.
More About Cher Jiang (from The Press)
The Carthage Press had the privilege to interview Cher Jiang years ago when she first moved to the states. She met Carthaginian Dan Mathern on an online dating site – mostly hoping for someone patient to help her English skills – but they fell in love.
Cher had already accomplished much in her 10 years as a professional artist in China. She earned her art degree from the Institute of Fine Art in China, and her master's from the Southwest Jiaotong University in 2005. With a dream to share her art across the world, she found a way to learn English – but didn't anticipate love in the process.
She moved to the U.S. in 2007 and eventually used her artistic skills to design figurines, illustrate books and calendars for Precious Moments. She enjoyed that work for seven years until the COVID-19 pandemic hit, and she was laid off. In that time, she never lost her connection to her homeland and continued to post her work to a Chinese website. Her designs captured the attention of fashion designers, and her work has been seen in New York Fashion Week.
Make sure to follow Cher and Elements Art Gallery on social media.