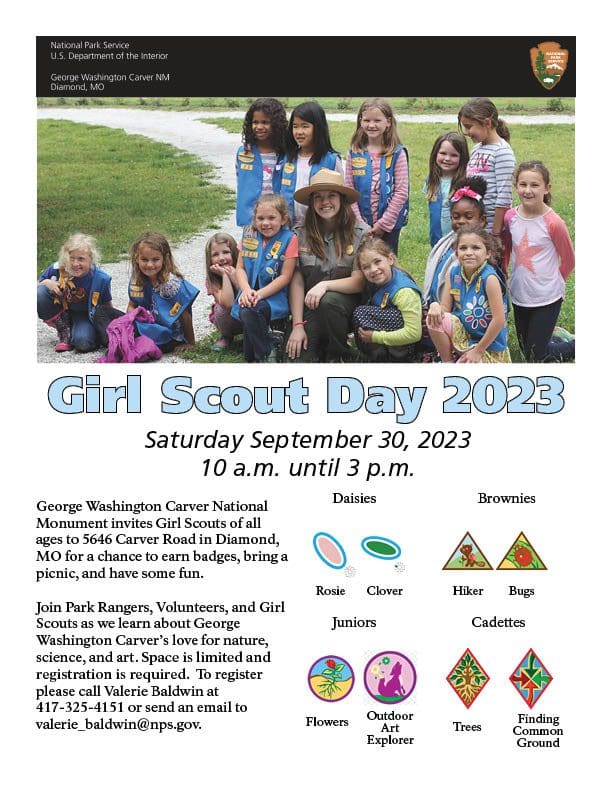 George Washington Carver National Monument staff and volunteers invite Daisies, Brownies, Juniors, and Cadettes to participate in a Girl Scout Day on Saturday, September 30th from 10:00 a.m. to 3:00 p.m. This event is free of charge!
All girls will have the opportunity to earn two badges. Daisies will have a chance to earn their Rosie Petal, Making the World a Better Place and their Clover Petal, Use the Resource Wisely. Brownies will have a chance to earn their Hiker Badge and their Bug Badge. Juniors will have the chance to earn their Flower Badge and their Outdoor Art Explorer Badge. Cadettes will have the opportunity to earn their Tree Badge and their Finding Common Ground Badge.
Registration is required and space is limited. Girl Scouts, leaders, and parents are encouraged to call or email to register their place in this fun day outdoors at the park! Scouts should be dressed for the weather, bring a packed lunch, and a refillable water bottle. In case of inclement weather, this event will take place indoors. Call 417-325-4151, send an email valerie_baldwin@nps.gov, or contact us at GWCA_Interpretation@nps.gov.
Administered by the National Park Service, an agency of the Department of the Interior, George Washington Carver National Monument preserves the birthplace and childhood home of George Washington Carver scientist, educator, and humanitarian. The park is located two miles west of Diamond, Missouri on Highway V, then ¼ mile south on Carver Road. For more information, please call the park at 417‐325‐4151 between 9:00 a.m. and 4:30p.m., visit the park website at www.nps.gov/gwca, or visit the park Facebook at www.facebook.com/GeorgeWashingtonCarverNM/.