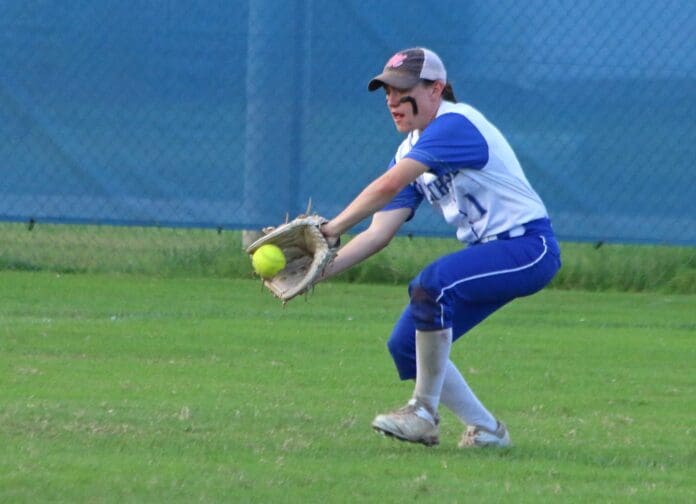 As soon as the ball left her bat Taylor Huston knew it was gone.
"I saw it going to center and said that's gone," she said.
Huston drove the first pitch she saw deep over the center field wall to give the Carthage softball team a 5-4 walk-off win on Monday against Lamar on senior night at the Fair Acres Sports Complex.
As the senior outfielder rounded the bases, her teammates sprinted to meet her at home plate. After the post-game senior night ceremony, Huston's teammates drenched her with a cooler of ice water.
"It's just a night I'll never forget, for sure," she said minutes later.
The win in the regular-season finale evened Carthage's record at 14-14 as the Tigers prepare for the start of the district tournament on Wednesday. Huston and head coach Mike Godfrey both said the victory should give the team plenty of momentum.
"You need some feel good games and this is really one of those," Godfrey said. "To be able to get all the seniors on the field and for them to be able to play together and get a close, exciting win, it was just a pretty gratifying night."
For virtually the entire night it was anybody's game to win. Carthage led 3-0 and then trailed 4-3 before tying the game in the bottom of the fifth. The Tigers left 10 runners on base and the visitors stranded nine.
Lamar's Meghan Watson singled with two out in the top of the seventh and might have scored if not for Huston's sliding catch in left field to end the inning.
"It looked as if it was going to be tied at the end and I figured it would be some kind of dramatic finish," Godfrey said. "I wasn't anticipating that."
But Huston led off the bottom of the seventh and needed just one pitch to end it with her big home run.
She said her mindset was just collect a base hit and she had no plans for the late-inning heroics.
"It was in the back of my mind, like 'It'd be cool if I could get a home run right here,' but my main focus was just getting a base hit to get a run, nothing too big," she said.
"It was fun to watch her be able to experience that," Godfrey said. "She's done such a good job this year."
Carthage took an early lead with a two-out run in the first. Senior Kali Godfrey was hit by a pitch and senior Maddi Adams dropped a single into left field. Senior Sydney Peters singled to load the bases for Shyann Sturgeon, who drew a walk to force in a run.
Carthage scored two more runs in the fourth. Huston led off with a single, senior Jadayn Strickland singled and senior Caitlyn Witt moved them over with a perfect bunt down the third-base line. Junior Hallie Patrick grounded the first pitch she saw up the middle to score one, and senior Karley Crowe followed with a single to right to make it 3-0.
Lamar's big inning was the top of the fifth. The visitors collected four hits and benefited from a couple defensive miscues to take a 4-3 lead.
Carthage tied it up in the fifth. Strickland drew a two-out walk and was replaced by pinch runner Katie Crowe, as sophomore. Witt then lined a double over the center fielder to score Crowe.
Lamar put runners at first and second in the sixth but couldn't score, and Carthage had runners and second and third in the bottom of the inning but came up empty.
District tournament
Carthage heads to Republic on Wednesday as the third seed in the six-team Class 4, District 11 bracket. Republic is the top seed and Webb City is seeded second. Neosho is fourth, Willard fifth and Joplin sixth.
Neosho and Willard will play at 5 p.m. Wednesday, with Carthage following at 6:30 p.m. against Joplin. The winner will advance to face Webb City at 6:30 p.m. Thursday, with Republic awaiting the winner of the other first-round game at 5 p.m. Thursday. The championship is slated for 5 p.m. Friday.
Carthage played Joplin on Sept. 11 and won 15-5 in five innings.
"We feel pretty good about the seed we've got and the opportunity we have," Godfrey said. "Taking on Joplin, they're better than their record so we know we have a challenge ahead of us but we're looking forward to really finishing strong."