CARTHAGE, Mo. — After a sluggish start over much of the first three quarters, Carthage was able to catch fire from behind the arc in the fourth quarter and pull away from Monett in a 58-44 win in the Tiger's season opener Tuesday at home.
The Tigers only scored 4 first quarter points, but were able to grind through the first half to trail 18-15 at the midway point.
Carthage Coach Nathan Morris dialed up the pressure in the second half using a zone press to create several forced turnovers and scoring opportunities for the Tigers.
Sophomore Trent Yates was feeling the hot hand, burying four 3-pointers in the deciding fourth frame to help ignite the Tigers late run. Yates would finish with 16 points.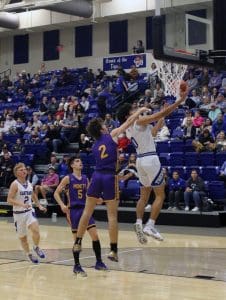 Junior Just Ray led the Tigers in scoring with 20 points. Senior Clay Kinder finished with 13 points, including two 3-pointers to go along with the barrage of fourth quarter 3-balls from the Tigers. Senior Max Templeman added nine points.
The 1-0 Tigers host the 76th annual Carthage Invitational Dec. 8-10.