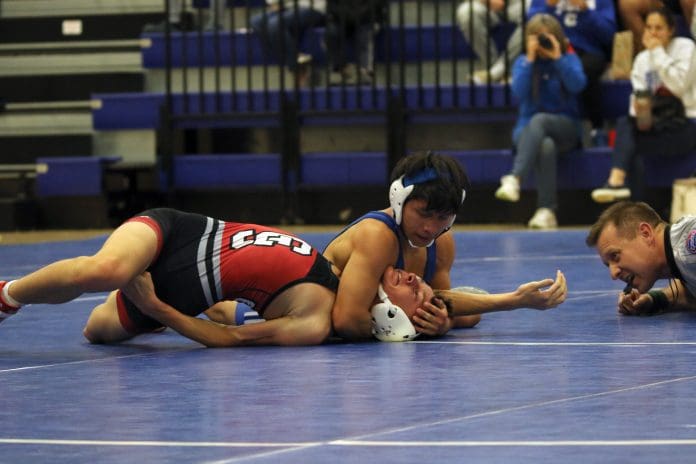 CARTHAGE, Mo. — Tuesday night marked the beginning of the wrestling season for the Carthage Tigers, and the 21st year at the helm for head coach, Kenny Brown.  Heading into this year's matchups, the Tigers may be feeling the absence of last year's nine seniors, but as with most years, the biggest challenge, according to Brown, is keeping everyone healthy.  Amidst a season of illness and the rigors of extended fall sports seasons, lineup changes can often be hard to anticipate.
"Our lineup isn't as deep as it has been in the past.  The last several years, there has been a lot of competition in the room for my varsity spots, so when a kid would get injured, his replacement wasn't very far off in ability.  There is a larger gap in ability this year between my varsity and junior varsity kids, so it is vital to our success that our varsity remain healthy," Coach Brown stated.
Last year's Carthage team was considerably deeper through the lineup, and more experienced, yet fell to Carl Junction in their home opener.  Brown attributes tonight's success to timing and circumstance and the boys' ability to put up some extra bonus points.
"We definitely had some circumstances fall our way, starting with the coin toss.  We won the toss and were able to make it to where CJ had to report to the table first at 144 where they were planning on forfeiting.  This allowed me to put one of our JV wrestlers, Joe Pantoja, into the lineup to accept the forfeit.  By doing this, I was able to bump Kip Castor, our normal varsity 144, to 150 where he was able to get the pin for us.  In essence, this was a 12-point swing in the team score.  Carl Junction was also without their varsity heavyweight due to an injury suffered over Thanksgiving break."
This young team did pull off some surprises in their victories, according to Coach Brown.
"I don't know that I would necessarily say there were surprises in the number of matches that we won, but I was surprised by some of the bonus point victories the boys were able to get for the team, specifically getting the pins from Alberto Sales(113), Trey Nye(157), and Alexander Salas-Marquez(215).  All three are serving in their first season as the varsity starter at their respective weights."
Without returning state qualifier Grey Petticrew, senior, and senior Davion King, last year's 160 lb. state runner-up, the outlook for victory was in question at the beginning of the evening.  It was evident, though, that the team's morale throughout the dual never waned.  Especially after Sales, Nye, and Salas-Marquez's matches.
"Alberto at 113 being able to get the fall with seven seconds to go in the match got us on the board and got the boys fired up.  Trey was wrestling a youth state medalist who grew up wrestling in the Carthage Kids' Club.  I felt that Trey could get the win, but I wasn't expecting a fall.  Finally, Alexander getting the fall took the pressure off our 285(David Recinos) having to get a fall.  When Alexander pinned his opponent, I knew that David just needed the decision for us to be able to win on tiebreaker criteria.  At times when a kid knows that he must pin his opponent for the team to be able to win, they will put themselves in bad positions to give the team a chance to win.  David knew he just needed the decision and wrestled a smart match by staying in great position.  At 285, there is very little room for error, so not having to take unnecessary risks in the match was a great position for us to be in," Coach Brown stated.
Armed with his ever-present rule book, Brown was able to present the criteria established by the National Federation of High Schools stating that Carthage won in this instance.  This criteria can evaluate up to seventeen different instances to determine the winner of a tiebreaker during a regular season dual matchup.  In this case, the sixth criteria was the determining factor, as Carthage had no forfeits, and Carl Junction did.
The National Federation of High Schools is also responsible for determining the weight classes for wrestling.  This year's weight classes have changed, with the intent of establishing a more uniform classification system for girls wrestling, as well.  Not only did girls wrestling add another classification for larger schools (they are now class one and two), but they added two more weight classes, to be equal to boys wrestling at fourteen.  The new boys weight classes are: 106, 113, 120, 126, 132, 138, 144 (was 145), 150 (was 152), 157 (was 160), 165 (was 170), 175 (was 182), 190 (was 195), 215 (was 220) and 285.  The Missouri High School Activities Association (MSHSAA) also governs several aspects of the season in compliance with NFHS guidelines.  Each season, MSHSAA redetermines district assignments and school classifications, as well as season start and locations for district and state competitions.
Coach Brown, who has been a registered wrestling official since 1996, explains the changes.
"MSHSAA reclassifies high school sports every year based on 9th grade to 11th grade enrollment.  MSHSAA got rid of the private school multiplier a few years ago and now adjust private school classification based on a success formula.  The better a private school does in a sport over a 6-year period can result in them being moved up one or two classes from where their actual enrollment would put them.  This causes the classes to be much more fluid with more changes than we had grown accustomed too.  MSHSAA has also added a 2nd class of girls wrestling this year, which is why the format of the State tournament had to change.  The girls were originally going to have their own State tournament at Cable-Dahmer Arena in Independence this year, but due to a scheduling conflict with the Arena, they lost the ability to use it this year.  Now, we are faced with having to have 4 classes of boys wrestling and 2 classes of girls wrestling at Mizzou Arena.  To do it, they will have the Class 1 girls and Class 1 & 2 boys State tournament on Wednesday and Thursday.  Friday and Saturday will be the Class 2 girls and Class 3 & 4 boys.  As to how it will affect our team, it will require some minor adjustments.  The biggest change for us this year is that Neosho has moved up to Class 4 and will be in our district again for the first time since 2018.  They are a quality program and will definitely make our District tournament much tougher."
Carthage has been a class 4 team (the largest class in the state) since the 2018-2019 season began.  This puts them in direct competition with the other largest schools in the state, such as Liberty, Park Hill, Christian Brothers College and Seckman.  Three years ago, Carthage started its own dual tournament over Christmas Break, to allow them to compete against more of these teams in one place.  "This has turned into a very tough tournament, specifically with the addition of Liberty, who has won the last 3 State Tournaments in class 4," Brown stated.
2022 State Results
Liberty—1st
Nixa—4th
Hickman—5th
Carthage—17th
Lee's Summit—31st
Ray-Pec—31st
The class 4, district 3 competition consists of Carthage, Springfield Central, Joplin, Kickapoo, Lebanon, Lee's Summit, Lee's Summit North, Lee's Summit West, Neosho, Nixa, Ozark, Raymore-Peculiar, Republic, Sedalia Smith-Cotton, and Waynesville.  "I believe that Ozark is going to be the team to beat in Class 4, District 3.  There will be some good competition, especially with Neosho moving up to Class 4," said Coach Brown.
Here are the Carthage Wrestling Results from our home dual with Carl Junction on 11/29/22.  Carthage next wrestles in the Frontenac KS JV Tournament on Saturday 12/03/22 starting at 9:00AM.  The varsity next wrestles in a double dual with Cassville and Berryville AR on 12/06/22 in Cassville starting at 5:00PM.
Team Results
Carthage—40—(1-0)
Carl Junction—39—(0-1)
Individual Results
Weight—Name—Grade—Season Record
106—Tanner Putt—10—(0-1)
Lost by fall in 3:22 to Carter Foglesong
113—Alberto Sales—11—(1-0)
Won by fall in 5:53 over Cole Beezley
120—Grady Huntley—9—(0-1)
Lost by fall in 1:52 to Lukas Walker
126—Emerson Ixcol—10—(0-1)
Lost by fall in 0:20 to Sam Melton
132—Bradyn Tate—11—(1-0)
Won by fall in 1:30 over Keaton Colburn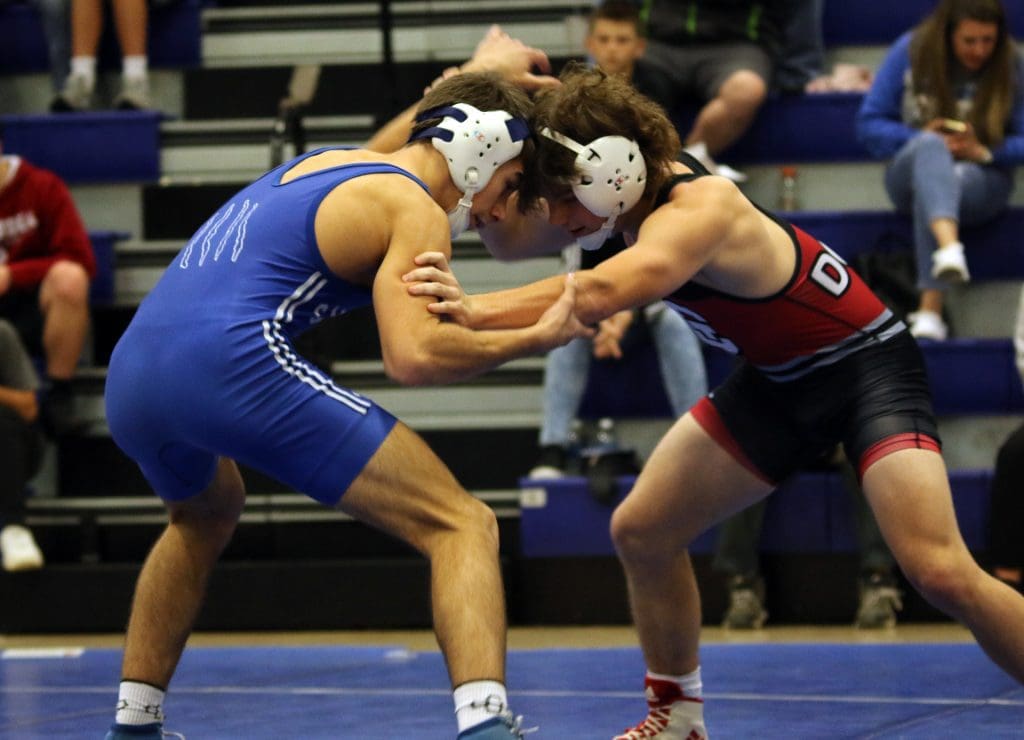 138—Brandon Perez—10—(0-1)
Lost by fall in 3:55 to Max Matthews
144—Joe Pantoja—10—(1-0)
Won by forfeit
150—Kip Castor—12—(1-0)
Won by fall in 4:59 over Nevan Challenger
157—Trey Nye—12—(1-0)
Won by fall in 3:19 over Marcus Lopez-Durman
165—Gabe Lambeth—12—(0-1)
Lost by decision 7-10 to Dex Merrell
175—Alexander Hernandez—9—(0-1)
Lost by fall in 0:22 to Tony Stewart
190—Hector Escobar—9—(0-1)
Lost by fall in 2:51 to Cody Berry
215—Alexander Salas-Marquez—11—(1-0)
Won by fall in 1:26 over Blake Starks
285—David Recinos—10—(1-0)
Won by decision 7-1 over Donny Keith
Junior Varsity Results
120—Indiana Gray—11—(1-0)
Won by decision 11-4 over Aiden Mercadante
126—Aydan Nye—10—(1-0)
Won by decision 8-5 over Drake Richardson
126—Douglas Ball—9—(0-1)
Lost by fall in 1:50 to Drake Richardson
126—Erick Mejia—9—(0-1)
Lost by fall in 0:33 to Camden Kunkle
138—Franky Contreras—9—(0-1)
Lost by decision 0-1 to Nic Foulk
138—Blayne Benefiel—9—(0-1)
Lost by fall in 1:49 to Kale Trosper
157—Matthew Bysor—10—(1-0)
Won by fall in 1:41 over Chris Zbranek
157—Joshua Hill—9—(0-1)
Lost by decision 0-6 to Chris Zbranek
190—Steve Serious—9—(0-1)
Lost by fall in 0:44 to Josh McDermott
215—Brayden Lee—10—(0-1)
Lost by fall in 2:40 to Elliot Brown