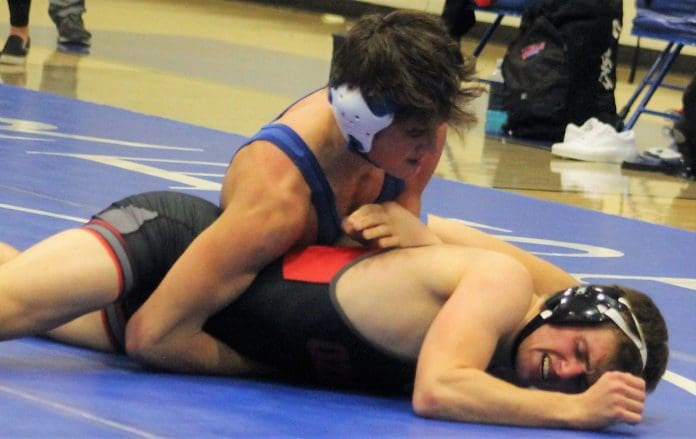 CARTHAGE, Mo. — Carthage Wrestling faced the number five ranked Class 4 team in Missouri, Ozark, Thursday night at Carthage High School.  Still dealing with the injuries at the 157, 215 and 285 lb. weight classes, the Tigers were dealt their first dual loss of the season after forfeiting at four weight classes.
Sophomore Tanner Putt started off the evening with a pin over Kaden Coffey at 106 lbs., and Alberto Sales followed up with a 14-8 decision over Ozark's Teagan Patterson in the 113 lb. weight class.  Freshman Grady Huntley and sophomore Ayden Nye both lost by fall to their 120 and 126 lb. opponents, but junior Bradyn Tate put the Tigers back in the lead with the team score 13-12 after a major decision at 132 lbs. over Caden Harrington.
Sophomore Brandon Perez lost by fall at 138 lbs., but the Tigers regained the lead in the team score again after the overtime win by Kip Castor at 144 lbs. and decision at 150 lbs. by Grey Petticrew.  Davion King scored the only remaining points for Carthage with his 1-0 decision at 165 lbs. over Ozark's Brock Sundlie. 175 lb. Gabe Lambeth lost a 3-7 decision to Lucas Campbell, and with open weight classes at 157, 190, 215 and 285, the visiting Tigers bested Carthage 45-22.
Here are the Carthage Wrestling results from our dual with Ozark on 01/05/23 at Carthage.  Carthage is now 4-1 on the season.
Carthage—22
Ozark—45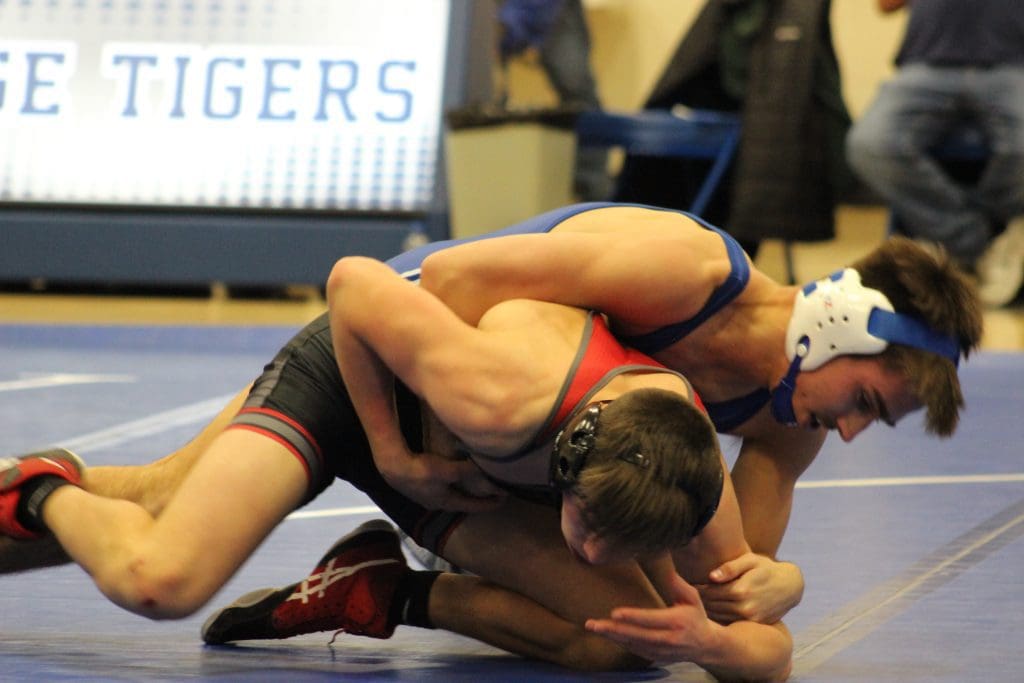 Individual Results
Weight—Name—Grade—Season Record
106—Tanner Putt—10—(11-8)
Won by fall in 1:55 over Kaden Coffey
113—Alberto Sales—11—(9-5)
Won by decision 14-8 over Teagan Patterson
120—Grady Huntley—9—(9-7)
Lost by fall in 1:41 to Damien Moseley
126—Aydan Nye—10—(11-10)
Lost by fall in 5:40 to Keaton Hurst
132—Bradyn Tate—11—(19-2)
Won by major decision 10-0 over Caden Harrington
138—Brandon Perez—10—(3-7)
Lost by fall in 1:10 to Jonathan Chapman
144—Kip Castor—12—(8-5)
Won by overtime decision 4-2 over Levi Maskrod
150—Grey Petticrew—12—(12-2)
Won by decision 3-1 over Dayton Moison
157—OPEN—Trey Nye out with an injury
Forfeit to Daniel Laney
165—Davion King—12—(14-0)
Won by decision 1-0 over Brock Sundlie
175—Gabe Lambeth—12—(9-6)
Lost by decision 3-7 to Lucas Campbell
190—OPEN
Lost by forfeit to Johnnie Williams
215—OPEN—Alexander Salas-Marquez out with an injury
Lost by forfeit to Ruben Arvizu
285—OPEN—David Recinos out with an injury
Lost by forfeit to Peyton Greer
Junior Varsity Results
120—Imer Merida—10—(1-3)
Lost by decision 9-11 to Warren Fisher
126—Erick Mejia—9—(1-4)
Won by fall in 1:04 over Warren Fisher
126—Emerson Ixcol—10—(2-5)
Lost by technical fall 2-17 to Ian McCracken
126—Mason Pugh—9—(2-4)
Lost by fall in 3:25 to Ian McCracken
132—Brayan Perez Flores—9—(1-5)
Lost by fall in 3:22 to Yegor Montgomery
144—Joe Pantoja—10—(4-4)
Lost by fall in 4:51 to Cohen Carpenter
Lost by fall in 1:59 to Blake Griffin
144—Jared Portillo—9—(2-4)
Lost by fall in 0:18 to Talyn Van Horn
150—Corey Breese—11—(2-2)
Lost by decision 7-12 to Mason Highley
150—Gilberto Alejandro—10—(0-2)
Lost by fall in 1:11 to Mason Highley
150—David Gramajo Paz—9—(0-7)
Lost by fall in 1:18 to Mason Highley
157—Joshua Hill—9—(1-6)
Lost by fall in 3:14 to Grady Kerans
Lost by fall in 3:35 to Lucas Edwards
165—Lenny Teo—9—(5-0)
Won by fall in 1:25 over Jackson Jester
165—Jed Fewin—9—(6-1)
Won by decision 6-2 over Jackson Jester
165—Keagon McCoy—10—(4-1)
Won by major decision 11-1 over Jackson Jester
175—Esvin Gonzalez—12—(0-1)
Lost by fall in 2:19 to Eric Shepard
175—Hector Escobar—9—(0-5)
Lost by fall in 3:00 to Jackson Speed
190—Steve Serious—9—(0-6)
Lost by fall in 0:30 to Jason Burge
190—Brayden Lee—10—(2-4)
Lost by fall in 0:36 to Jason Burge