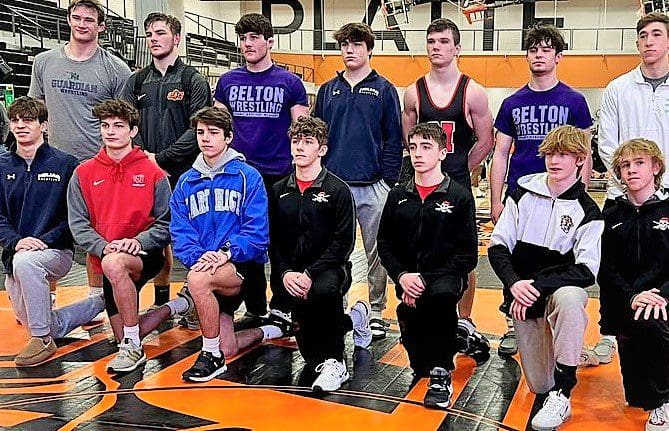 Bradyn Tate was this weekend's Platte County Invitational Champion at 132 lbs.  Tate faced a tough schedule, punctuated by Platte County, Smithville, Belton and Hannibal.  With four pins, two major decisions and two decisions in the semifinals and finals, Tate improves his record to 33-3 going into this week's duals against Webb City, Springfield Central, Waynesville and the COC Tournament.
As a team, Carthage had three other wrestlers that placed third in the tournament, including Tanner Putt at 106 lbs., Kip Castor at 144lbs. and David Recinos at 285 lbs., returning after a lengthy absence following an injury.
Here are the Carthage Wrestling results from the Platte County Invitational on 01/20-21/23.  Carthage next wrestles Webb City at Webb City on 01/24/23 starting at 6:00.
Team Scores
1—Olathe North—343.5
2—Hannibal—338.5
3—Helias—285
4—Platte County—282
5—Belton—256
6—St. Michael—240.5
7—Carthage—240
8—Blue Springs—229.5
9—Smithville—192
10—Van Horn—188.5
11—Excelsior Springs—182.5
12—Oak Grove—162.5
13—Warrensburg—147
14—William Chrisman—127.5
15—St. James—95
Individual Results
Weight—Name—Grade—Tournament Record—Season Record—Placement
106—Tanner Putt—10—(4-2)—(21-11)—3rd
Won by fall in 1:36 over Jervin Riddle—William Chrisman
Won by decision 6-1 over Landon Lane—St. Michael
Won by fall in 2:50 over Mlondani Emoyi—Van Horn
Lost by fall in 5:56 to Austin Brown—Hannibal
Lost by major decision 0-10 to Jaxson Scott—Olathe North
Won by fall in 2:23 over Parker Lock—Helias
113—Indiana Gray—11—(1-6)—(1-6)—DNP
Lost by fall in 3:14 to Cooper Collins—Excelsior Springs
Lost by decision 6-7 to Keegan Martin—Oak Grove
Lost by fall in 0:50 to Caden Hulett—Platte County
Won by fall in 3:29 over Liam Bowles—St. James
Lost by fall in 3:07 to Tristan Waters—Smithville
Lost by fall in overtime fall to Jaylen Civil—Warrensburg
Lost by major decision 0-13 to Parker Lutz—St. Michael
120—Grady Huntley—9—(5-3)—(20-11)—DNP
Won by fall in 1:26 over Dominick Betts—Excelsior Springs
Lost by fall in 3:45 to Austin Stevick—St. Michael
Won by forfeit over Alexander Escabi-Fullmer—Platte County
Won by fall in 0:37 over Rony Guardiola—William Chrisman
Lost by decision 4-5 to Drake Brinkley—Hannibal
Won by fall in 3:20 over Aleksandr Careaga—Helias
Won by major decision 11-2 over Alex Hutchcraft—Smithville
Lost by fall in 5:13 to Aleksandr Careaga—Helias
126—Israel Perez—10—(1-5)—(1-7)—DNP
Lost by fall in 1:12 to Tristen Essig—Hannibal
Lost by fall in 2:28 to Will Burchard—St. James
Lost by fall in 5:48 to Jayden Welch—Warrensburg
Lost by fall in 4:53 to Javarien Jeffries—William Chrisman
Lost by fall in 1:11 to Taggart Murphy—Olathe North
Won by decision 7-6 over Riley Smith—Blue Springs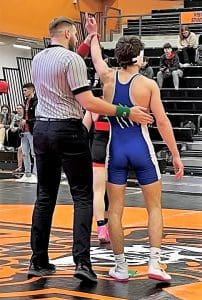 132—Bradyn Tate—11—(8-0)—(33-3)—1st
Won by fall in 1:09 over Vinny Pinzon—Smithville
Won by fall in 1:39 over Jaylon Dillard—Olathe North
Won by major decision 15-4 over Shane Leary—Platte County
Won by fall in 0:49 over Ryne Marcum—Excelsior Springs
Won by fall in 2:44 over Landin Kunsch—Belton
Won by major decision 13-2 over Lucas Barry—St. Michael
Won by decision 4-2 over Lane Cross—Belton
Won by decision 4-3 over Chad Culp—Hannibal
138—OPEN
144—Kip Castor—12—(5-2)—(14-7)—3rd
Won by major decision 14-2 over Austin Timmons—Olathe North
Won by fall in 2:36 over Kevin Rodriguez—Van Horn
Won by fall in 2:47 over Korbin Schmidli—Blue Springs
Won by fall in 2:28 over Isaiah Seymour—Platte County
Lost by decision 0-4 to Peyton Elliot—Hannibal
Lost by decision 4-8 to Jace Duemmel—Helias
Won by fall in 2:46 over Draiden Chilcoat—Platte County
150—Grey Petticrew—12—(3-3)—(20-7)—DNP
Lost by fall in 5:33 to Koen Ramage—Hannibal
Lost by decision 0-7 to Brady Littleton—Belton
Won by fall in 1:09 over Montez Clemons—Platte County
Lost by fall in 3:44 to Alex Hutchcraft—Smithville
Won by fall in 5:33 over Carson Hayes—Helias
Won by fall in 4:58 over Greg Dillon—Blue Springs
157—Trey Nye—12—(3-4)—(18-11)—DNP
Lost by major decision 0-11 to Darrius Paige—Van Horn
Lost by decision 5-11 to Eli Homan—Helias
Won by fall in 1:19 over Owen Mitchell—Smithville
Lost by major decision 7-16 to Daniel Startk-Wroblewski—Warrensburg
Won by fall in 5:11 over Bryan Jennings—Platte County
Lost by fall in 1:30 to Darrell Smith—Platte County
Won by fall in 4:22 over Bryan Jennings—Platte County
165—Gabe Lambeth—12—(4-2)—(17-10)—DNP
Lost by fall in 3:00 to Vance Provost—Olathe North
Lost by decision 3-7 to Chase Baldwin—Blue Springs
Won by fall in 0:35 over Colton Rittenhouse—Van Horn
Won by fall in 3:35 over Haze Middleton—Smithville
Won by fall in 3:46 over Griffin Moses—St. Michael
Won by major decision 15-2 over Haze Middleton—Smithville
175—Esvin Gonzalez—12—(0-6)—(6-15)—DNP
Lost by decision 6-11 to Jameson Lyons—Belton
Lost by fall in 0:29 to Logan Montoya—Helias
Lost by fall in 3:27 to Joseph Rizzie—St. Michael
Lost by major decision 4-15 to Daniel Seymour—Oak Grove
Lost by fall in 1:20 to Austin Clevenger—Smithville
Lost by fall in 1:20 to Lake Johnson—Blue Springs
190—OPEN
215—OPEN
285—David Recinos—10—(6-2)—(20-6)—3rd
Won by fall in 5:52 over Adam Colwel—Blue Springs
Won by fall in 1:34 over Ezias Poli—William Chrisman
Won by decision 3-0 over Just Wright—Excelsior Springs
Won by decision 3-1 over Kameron Doyle—Platte County
Won by fall in 3:14 over Braden Hales—Olathe North
Lost by fall in 5:00 to Sampson Stillwell—St. Michael
Lost by fall in 0:32 to Caleb Groff—Oak Grove
Won by decision 3-1 over Ryan Ross–Hannibal