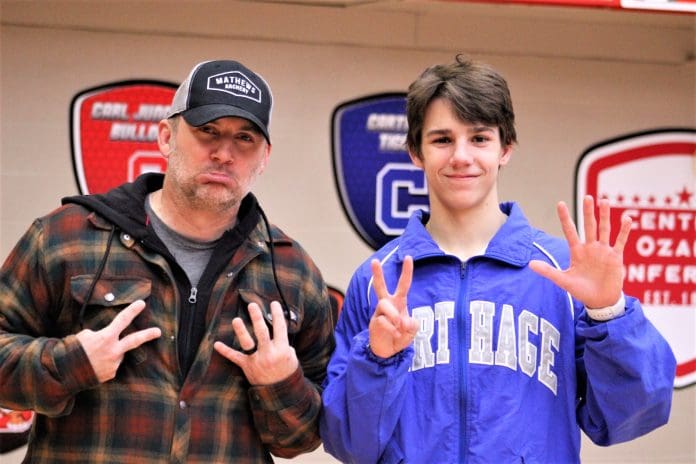 WEBB City, Mo. — Junior Bradyn Tate has had his eyes on the prize all year.  Knowing that the individual pin record at 132 lbs. was held by his very own assistant principal, Jared Patrick, motivated Tate to push even harder.  Patrick, who was in attendance at Tuesday night's dual at Webb City, was put on notice by Tate that he was coming for his record.
"Bradyn not only kept track of the records, but he took a picture on his phone of that page from the record book," said Carthage head coach, Kenny Brown. "Tradition is important with any team and I'm glad our kids value and respect what alumni have done in the past, but I'm also glad they are pushing themselves to push beyond that and reach their own goals.  It's always been fun to see the youngsters goad us old guys in their quest to reach those milestones.  It was great that Jared made a point to be there and congratulate Bradyn – you won't find two better people."
Tate was one piece of a Carthage offensive that was firing on all cylinders Tuesday night with their 68-6 win over the Webb City Wrestling team.  Out of the gate, Tanner Putt and Alberto Sales provided the team with two falls, followed by forfeits by Webb City at 120 and 126 lbs.  Tate was next with his fall at 132 lbs., followed by Blayne Benefiel at 138 lbs. with a loss to Webb City's Aiden Moore.
The Tigers couldn't be stopped after that, with falls from seniors Kip Castor (144 lbs.), Grey Petticrew (150 lbs.), Davion King (165 lbs.), and Gabe Lambeth (175 lbs.) and sophomore David Recinos (285 lbs.).  Senior Trey Nye (157 lbs.) teched his opponent 18-3 and senior Esvin Gonzalez got the decision at 190 lbs.
Here are the Carthage Wrestling results from our dual with Webb City on 01/24/23 at Webb City.  Carthage is now 5-3 on the season and next wrestles in a double dual with Springfield Central and Waynesville at Central on 01/26/23 starting at 5:00.
Carthage—68
Webb City—6
Individual Results
Weight—Name—Grade—Season Record
106—Tanner Putt—10—(22-11)
Won by fall in 0:41 over Tyler Pearish
113—Alberto Sales—11—(15-7)
Won by fall in 5:32 over Kyler Butler
120—Grady Huntley—9—(21-11)
Won by forfeit
126—Israel Perez—10—(2-7)
Won by forfeit
132—Bradyn Tate—11—(34-3)
Won by fall in 3:15 over Colt Taylor
**Set a new Carthage 132 record for most falls with 25**
The previous record of 24 was held and set by Jared Patrick('97), Aaron Groom('07), and Hunter Yust('15)
138—Blayne Benefiel—9—(0-3)
Lost by fall in 1:42 to Aiden Moore
144—Kip Castor—12—(15-7)
Won by fall in 0:46 over Carson Farmer
150—Grey Petticrew—12—(21-7)
Won by fall in 1:28 over Aiden Rose
157—Trey Nye—12—(19-11)
Won by technical fall 18-3 over Dominic Boles
165—Davion King—12—(20-1)
Won by fall in 0:25 over Bronson Collard
175—Gabe Lambeth—12—(18-10)
Won by fall in 1:40 over Ricky Hernandez
190—Esvin Gonzalez—12—(7-15)
Won by decision 7-4 over Jace Cartright
215—OPEN
Double Forfeit
285—David Recinos—10—(21-6)
Won by fall in 1:56 over Garet Mathis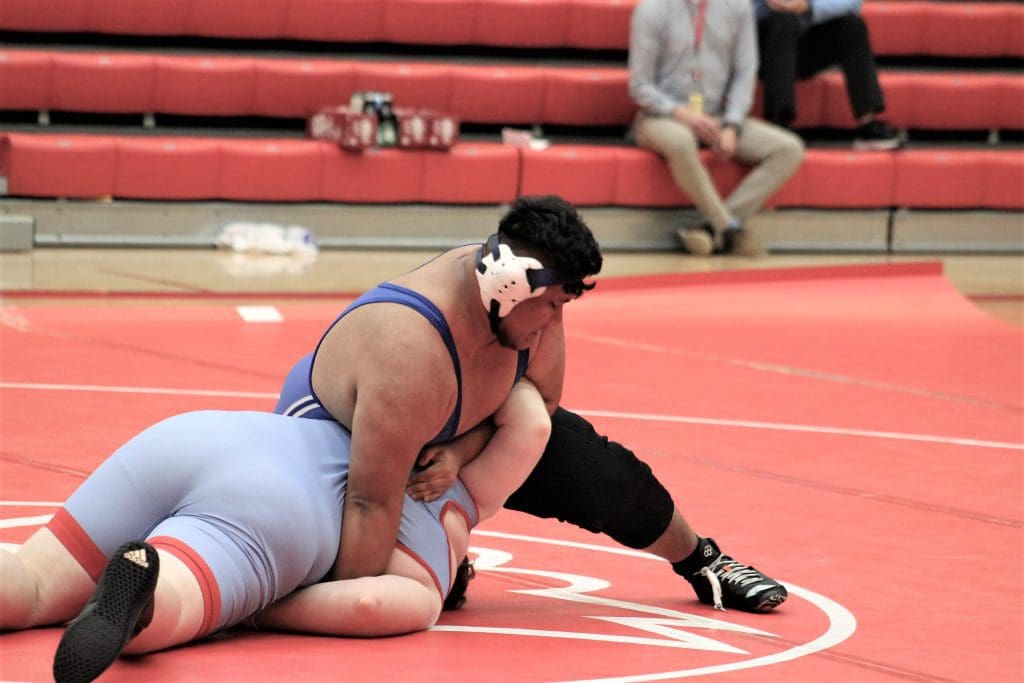 Junior Varsity Results
113—Indiana Gray—11—(15-1)
Won by fall in 1:57 over Grant Humphrey
132—Mason Pugh—9—(7-7)
Lost by fall in 4:56 to Blake Leonard
132—Emerson Ixcol—10—(5-6)
Won by fall in 2:33 over Dawson McMullen
144—Jared Portillo—9—(4-9)
Won by fall in 1:28 over Gavin Stodghill