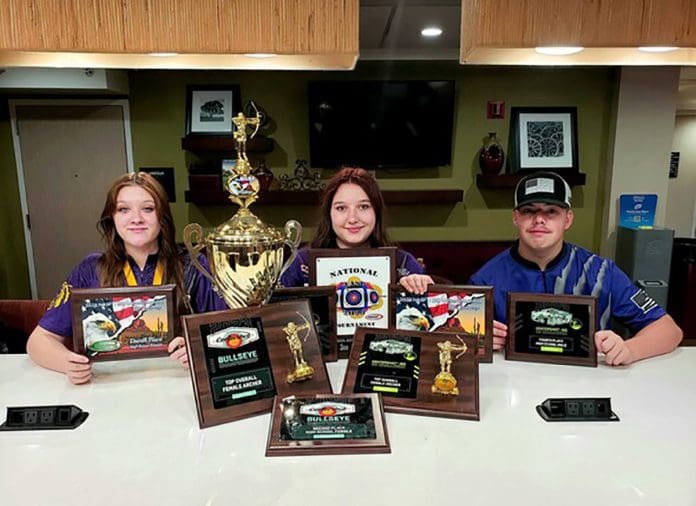 JEFFERSON CITY, Mo. – Student archers from Missouri's National Archery in the Schools Program (MoNASP) traveled to Sandy, UT last month to compete in the 2023 Western National Bullseye and 3D Tournament held April 28-29.
MoNASP is coordinated through the Missouri Department of Conservation (MDC), the Missouri Conservation Heritage Foundation (MCHF), and the Conservation Federation of Missouri (CFM) in partnership with more than 700 participating schools and numerous supporting organizations throughout the state. Around 80,000 Missouri students participate in the program.
MoNASP is an affiliate of NASP and promotes education, self-esteem, and physical activity for students in grades 4-12 through participation in the sport of archery. Statistics show school archery programs improve students' school attendance, increase their self-esteem and physical activity, help them relate to subject matter, and help them get outdoors.
A total of 1,763 archers from 24 states attended this year's bullseye tournament. A total of 1,214 students from 21 states participated in the 3D challenge. Twenty-two Missouri archers competed in the bullseye portion of the tournament and 31 Missouri archers competed in the 3D portion.
BULLSEYE TOURNAMENT TOP SCORES
Sarcoxie High School
HIGH Team #1
Score: 3,341
Tens: 169
Rank: 2 out of 36
Alyssa Willis – Sarcoxie High School
Score: 289
Tens: 20
High School Girls Rank: 3 out of 343
11th Grade Girls Rank: 1 out of 75
Overall Girls Rank: 5 out of 838
Dugan Pogue – Sarcoxie High School
Score: 289
Tens: 19
High School Boys Rank: 9 out of 344
11th Grade Boys Rank: 5 out of 87
Overall Boys Rank: 14 out of 925
Find more of the 2023 Western Nationals Bullseye Competition results online at https://nasptournaments.org/TournamentDetail.aspx?tid=9437
3D TOURNAMENT TOP SCORES
Sarcoxie High School
HIGH Team #1
Score: 1,685
Tens: 90
Rank: 2 out of 34
Jefferson High School
HIGH Team #1
Score: 1,613
Tens: 69
Rank: 13 out of 34
David Boyer – Kingston Junior High School
Score: 294
Tens: 24
Middle School Boys Rank: 1 out of 245
8th Grade Boys Rank: 1 out of 103
Overall Boys Rank: 1 out of 632
Alyssa Willis – Sarcoxie High School
Score: 293
Tens: 23
High School Girls Rank: 1 out of 246
11th Grade Girls Rank: 1 out of 50
Overall Girls Rank: 1 out of 582
Bayla Sageser – Sarcoxie High School
Score: 284
Tens: 16
High School Girls Rank: 4 out of 246
9th Grade Girls Rank: 2 out of 65
Overall Girls Rank: 6 out of 582
Matthew Ventrano – Sarcoxie Middle School
Score: 279
Tens: 16
Middle School Boys Rank: 10 out of 245
8th Grade Boys Rank: 5 out of 103
Overall Boys Rank: 30 out of 632
Kaelyn Nilson – Jefferson High School
Score: 279
Tens: 14
High School Girls Rank: 13 out of 246
12th Grade Girls Rank: 4 out of 59
Overall Girls Rank: 20 out of 582
Breann Shumake – Sarcoxie High School
Score: 279
Tens: 14
High School Girls Rank: 13 out of 246
9th Grade Girls Rank: 4 out of 65
Overall Girls Rank: 20 out of 582
More results of the 2023 Western 3D Competition can be found online at https://nasptournaments.org/TournamentDetail.aspx?tid=9437