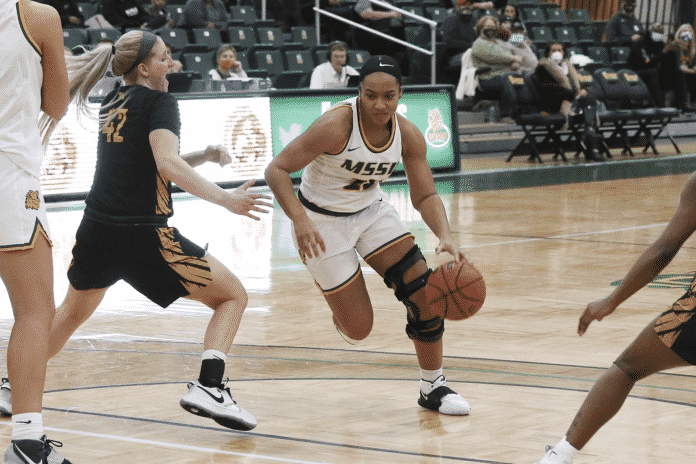 Joplin, Mo. – The Missouri Southern women's basketball team had four score in double-figures, but the Lions couldn't overcome a first-half deficit and fell at home to Pittsburg State, 78-60 today.

Southern (7-13) was led by 14 points from Amaya Johns as she added seven rebounds off the bench. Carley Turnbull scored 13, while Hailey Grant scored a career high 12 points on 4-of-8 from the field. Madi Stokes scored ten and pulled down nine boards with two blocks. The two blocks give her 43 on the season and put her in second-place all-time on the single-season block list.

Pitt (13-7) had three in double-figures led by 17 from Kaylee DaMitz.

The Gorillas jumped out to a 10-2 lead at the 6:19 mark of the first quarter, but a three from Turnbull and a layup from Layne Skiles cut the deficit to three (10-7) with 5:35 to go. A pair of free throws from Stokes cut the lead to two (16-14) with three to go and the Gorillas led 18-16 the next trip down, but PSU closed the quarter on a 10-0 run to lead 28-16 after one.

The Pitt run reached 20-2 as the Gorillas led 38-18 halfway through the second quarter. A three from Johns with 18 seconds left made the score 46-22, but a PSU late bucket made the halftime score 48-22.

PSU pushed its lead to 30 (60-30) midway through the third, but a 10-3 run from the Lions made the score 60-43 and forced a Gorillas' timeout. A free throw from Pitt as time expired made the score 66-42 after three.

A layup from Megan Jackson off an assist from Turnbull got the Lions within 17 (72-55) with 5:41 to go on the clock and a pair of free throws from Johns with two minutes to go got Southern within 18 (76-58) but that would be as close as they would get.

The Lions shot 84 percent from the free throw line and out rebounded the Gorillas 42-38 in the contest. Points in the paint were even at 28, while the Southern bench out-scored the Gorillas' 29-19.

Southern will be back in action this Thursday when the Lions play host to Washburn. Tip off from Robert Corn Court inside the Leggett & Platt Athletic Center is set for 5:30 p.m.
Source: https://mssulions.com/news/2021/2/20/womens-basketball-lions-have-four-score-in-double-figures-to-pitt