Carthage Lady Tigers 44, Ozark 57
CARTHAGE, Mo. — The Lady Tigers jumped out to a five point lead after the first quarter, but were unable to maintain the lead in the 44-57 loss to Ozark Friday, Jan. 13, 2023.
"We played even with Ozark for three of the four quarters tonight," Carthage Coach Scott Moore said. "Unfortunately, a cold shooting second quarter coupled with foul trouble allowed Ozark to take a 10 point lead at halftime that we couldn't seem to erase."
"The girls battled hard tonight, we are getting better," Moore added. "We just need to put four good quarters together to play our best game yet."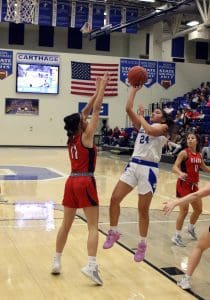 Kianna Yates led the Tigers in scoring with 17 points. Maggie Boyd finished in double figures with 10 points. Lauren Choate chipped in with nine points. Ashlyn Brust and Jaidyn Brunnert added three points each and Lexa Youngblood finished with two points.
The Lady Tigers are 6-6 overall and host McDonald County on Tuesday. Junior Varsity tips off at 5:30 p.m. with the varsity game to follow.
Carthage Tigers 73, Ozark 67
The Tiger boys basketball team jumped out to a 10 point lead after the first quarter and were able to hold on late with some clutch free throws from Senior Max Templeman in the 73-67 win over the visiting Ozark Tigers Friday, Jan. 13, 2023. Templeman was a perfect six-for-six from the free throw line late in the fourth quarter after Ozark got in to foul trouble to put the Tigers in the bonus.
Templeman led the Tigers in scoring with a game high 27 points. Justin Ray added 18 points and Britt Coy followed with 12 points. Clay Kinder had nine points while Trent Yates chipped in with five points and Kruz Castor added two points.
The Tigers are 8-6 overall and travel to Chanute, Kan., for the Ralph Miller Classic next week where they face the Andover Central Jaguars in the first round.