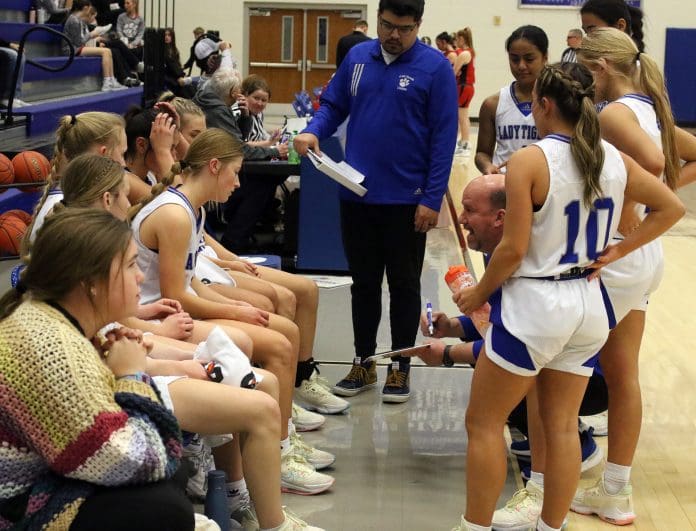 CARTHAGE, Mo. — The Lady Tigers came out firing on all cylinders in a 46-27 win over visiting McDonald County on Tuesday, Jan. 17.
Carthage jumped out to a 10-point lead after the first quarter and built on that in the second quarter to take a 20-point lead into halftime.
"We came out and played one of our best halves of the season to start the game," Carthage Coach Scott Moore said. "The girls played great defense holding McDonald County to just 13 points. We coupled that with aggressive offense to secure a 20-point lead at halftime."
The Tiger offense would cool off to begin the second half, but the defense remained steady holding the Mustangs to only two points in the third quarter.
"Our shots didn't fall as well the second half and McDonald County kept up their intensity for the full 32 minutes," added Moore. "We are still looking to put together four great quarters. The girls know that and are still looking to play their best game yet."
Senior Kianna Yates led the Tigers in scoring with a game-high 22 points. Lauren Choate followed with six points, Maggie Boyd added five points, with Landry Cochran chipping in with four points. Ashlyn Brust had three points and Trisha Kanas, Jaidyn Brunnert and Lexa Youngblood finished with two points each.
"Kianna was the offensive catalyst tonight. She scored an easy 22 points in probably only 22 minutes of action. We need more players to consistently produce this weekend when we travel to the Pittsburg tournament and face quality opponents in all three rounds."
The Lady Tigers are 7-6 on the season and 1-1 in the COC.