COLUMBIA, Mo. — A little snow did not stop the Carthage Tiger Wrestling state qualifiers from advancing three guys to the second day of the MSHSAA Wrestling State Championships at Mizzou Arena.
Thursday evening's competition started off with a bang at 138 lbs. as senior, Eli Sneed (35-5 on the season), delivered an 8-3 decision to senior, Landon Rogers from Northwest House Springs for the first-round win.  This is Sneed's second state tournament, as he qualified last year as a junior. His quarterfinal round Friday finds him facing Liberty High School senior Easton Hilton, who has a 41-6 record on the year.
Junior, Grey Petticrew unfortunately found himself at the tough end of the 145 lb. bracket when junior Gavin Shoulders from Lafayette Wildwood beat him 7-3.  The loss put Petticrew to the wrestlebacks section of the brackets later that evening, where he fell to senior Chris Gibson from Francis Howell by pin.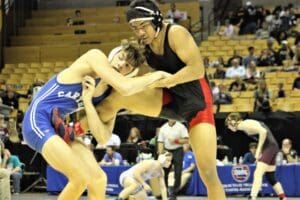 Senior Braxdon Tate, in his third state tournament, earned the Tigers their first bonus points with a major decision (10-2) over Jeric Gumahin of Fort Zumwalt South at 152 lbs.  Tate's quarterfinal round on Friday pits him against senior, Logan Rathjen of Liberty High School, who has a record of 31-7. Tate comes into the match with a 30-6 record respectively.
The final first round match of the evening was junior, Davion King (160 lbs.) and Oak Park junior Karl Knaak.  Knaak was 35-13 on the season coming into tonight's first round of competition, and King was 36-4.  King also gave the Tigers some bonus points with a win by fall just 51 seconds into the first period.
Carthage Coach, Kenny Brown, was pleased with the first day performance of his team.
"The first day is always nerve-wracking, whether you're a repeat qualifier or a newbie.  Everyone is feeling everyone out and this is the place where people know anything is possible.  I've personally witnessed three-time state champs get beaten by complete underdogs who nobody thought had a chance.  I also understand defeat at that level and it never gets any easier.  I'm proud of my boys for giving their absolute best this year.  I also think, for the first time in many years, there aren't a lot of clear-cut victories expected.  This speaks highly to the level of competition these guys are bringing to the table."
Sneed, Tate and King will compete in Friday's quarterfinal round at Mizzou Arena at 1:15 pm, which will be followed by the second-round wrestlebacks for any wrestlers beaten in the quarterfinal round  Semifinals and third-round wrestlebacks begin at 6:30 pm