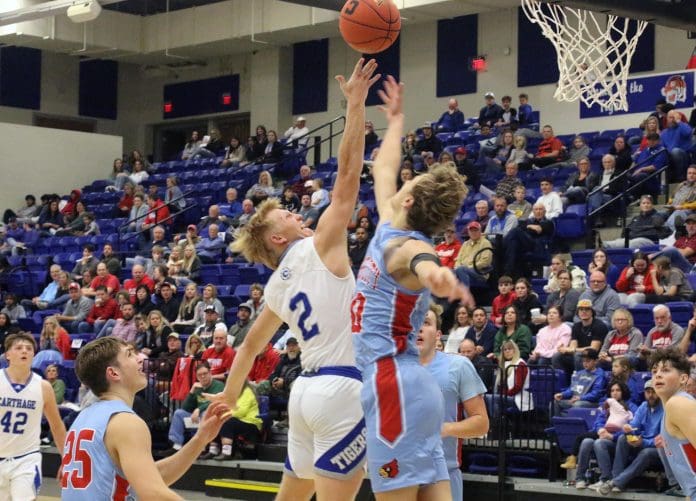 CARTHAGE, Mo. — Scoring early and often was the name of the game for the Tigers offense as they took the lead from the opening possession and never looked back en route to a 70-48 victory over Webb City Friday night during day two of the Carthage Invitational.
A 3-pointer from Senior Clay Kinder opened the scoring for Carthage and by the end of the first quarter the Tigers added three more 3-pointers to take an 18-10 lead.
Senior Max Templeman used his speed and ball handling skills to penetrate the Cardinals defense all night and finish with a game-high 24 points including a perfect 11-for-11 from the free throw line.
By the end of the second quarter, the Tigers had doubled up Webb 36-18.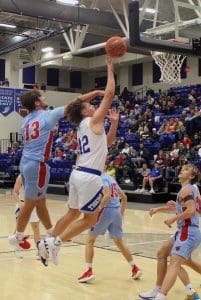 The Tigers got a scare early in the second half when Junior Justin Ray drove to the basket and was fouled by a Webb City defender, sending him hard to the floor. After a few minutes with the Carthage athletic trainer, Ray was able to walk off the court under his own power and eventually returned to the game in the fourth quarter.
Senior Britt Coy finished the game with a double-double, scoring 13 points and grabbing 13 rebounds. Ray added 11 points while sophomore Trent Yates scored 10. Kinder added eight points. Sophomores Tyler Stevens-Diggs and Kruz Castor chipped in two points apiece.
Carthage (3-0) will face Joplin (3-1) in the championship game at 4:30 p.m. Saturday.