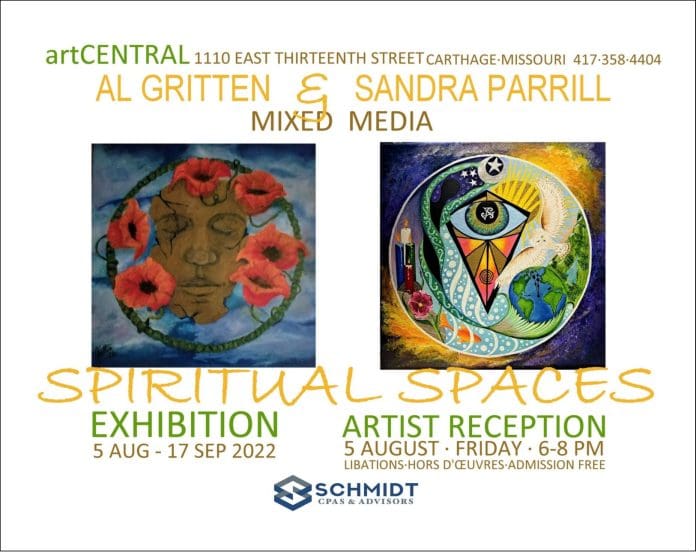 Graciously underwritten by SCHMIDT CPS & ADVISORS, the SPIRITUAL SPACES Opening Artists Reception takes place, Friday, August 5, 6:00-8:00 p.m. at Hyde House, 1110 East Thirteenth Street in Carthage. All are welcome. Admission is free. Libations and hors d'œuvres will be served with artCentral board members Doug Osborn and Lori Marble as the evening's impresarios.
Weekend gallery hours will be Fridays and Saturdays, 12:00-5:00 p.m. through September 17. Plan to come and enjoy a cool reprieve from our end-of-summer heat as you nurture your soul with this elegant collection. You can preview Al's and Sandra's exhibition art at www.artcentralcarthage.org/events and at www.facebook.com/ArtcentralCarthage/photos/.
A feather. A flower. A totem. A tree. All are among the rich abundance of images and symbols to be found in SPIRITUAL SPACES and the seventy-four paintings of Sandra Parrill and Al Gritten. Each work of art offers an inviting vista into the creative minds and souls of two uniquely talented artCentral artists—artists who are deeply and exquisitely rooted in their personal spirituality.
Sandra Parrill, with feelings of awe, mystery and wonder, is in a constant process to discover where she belongs in the infinity of the cosmos. She seeks in her art "to find what lies in the soul and to be in tune with the Mother Spirit that watches over us all." Sandra wants to draw in the viewer to be a mindful witness and to challenge the perceptions and associations held in our dreams and imagination. While reminding us of the importance of taking care of Mother Nature as she takes care of us, through her art-making Sandra hopes to bring awareness of the natural world that she sees "gradually vanishing before our eyes". She paints for us the connection of children with nature. With her finely detailed renderings of butterflies, birds and moths she delves into the magic of Nature she finds as she lives and works immersed in the natural world and gives us opportunities to join her.
Al Gritten knows himself to be at home in many a spiritual space—spaces identified as religion, church, God and Goddess. Likewise, Al discovers spiritual spaces in songs, poems and prose. Nature, too, is a spiritual home for Al who finds resonance with the words of William Blake who celebrated the natural world as a place to "see a world in a grain of sand and heaven in a wildflower…" Through Al's artistic expressions, he works in a variety of media to explore spirituality in many forms—nature, symbols, songs, poems, and, yes, through religious contexts as well. The complex layers and often unpredictable stories behind each of Al's paintings provoke the imagination to look at life from new and unexpected views which lead us to discover a living universe we did not realize was there waiting for us.
The combined works of Al Gritten and Sandra Parrill, while quite different in approach and rendering, have the collective power to lead each of us into spiritual places and spaces that soothe and satisfy our individual spiritual yearnings.
Together the artists as our guides invite us to journey with them wandering through the beautiful, magical, mystical world of SPIRITUAL SPACES into the deep symbolism of spirit and the resting places of the soul and beyond into our own personal sanctuaries of serenity.
Do plan a visit soon to artCentral's elegant home in Hyde House. Enjoy the blissful peace. Relish the spaciously quiet galleries. Bathe in the coolness of this old farmhouse turned showcase for the art and artists who enrich our lives with wonder.