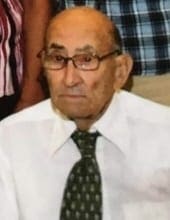 Kenneth O. Richmond, 95, Webb City, MO, passed away Friday, November 2, 2018, at Mercy Hospital, Springfield, MO. Kenneth was born on December 5, 1922 in Lawrence County, MO, the son of late Joseph Perry and Verna Marie (Oliver) Richmond. He was a 1941 graduate of Carl Junction High School. He married Lora Lavina Achey on June 24, 1947 in Webb City, MO; she preceded him in death on March 1, 2016. Kenneth worked for the former Thomas Fruit Company as a delivery driver for many years. Heenjoyed work and was a very hard worker having various jobs in Jasper County while being a long-time farmer. He enjoyed recycling and was a wonderful care giver for his wife Lavina.
Survivors include two sons, Leon S. Richmond (Nancy) Sedalia, MO, and Allen D. Richmond (Deborah), St. Louis, MO; and numerous grand, great, and great-great grandchildren.
He was also preceded in death by two brothers, Clyde Richmond and Keith Richmond; and five sisters, Pauline Crowe, Joyce Sherrill, Ceola Betz, Nadine Willard, and Elaine Richmond.
Funeral services will be held at 10:00 am, Friday, November 9, 2018 at the Knell Mortuary. Burial will follow in the Hackney Cemetery. The family will receive friends from 6:00 to 7:00 pm, Thursday, November 8, 2018 at the Knell Mortuary. In lieu of flowers, the family suggests donations to the charity of one's choice in care of Knell Mortuary. Online condolences may be expressed through www.knellmortuary.com. Arrangements are under the direction and personal care of Knell Mortuary.