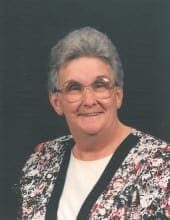 Harriett I. Witt, 80, Carthage, MO, passed away Thursday evening, October 18, 2018 at her home with family by her side. Harriett Inez Greek was born January 8, 1938 in Carterville, MO to the late Frank Greek and Iva (Taft) Greek. She attended school at Carterville High School. Harriett married Clarence Walter Witt on November 16, 1962 in Atlas, MO; he preceded her in death on December 16, 2004. She worked at Moark Egg in Neosho for 20 years. Harriett enjoyed playing cards, working puzzles, reading,watching westerns, and most of all, loved raising her nine children.
Survivors include her children, Doug Witt, Edith Stratton, Elizabeth Boswell, Wayne Witt, David Witt, Richard Witt, Susan Thomas, and Sandra Welsh; one brother, Jack Taft, Webb City, MO; three sisters, Ivaleen Bullis, Carthage, MO, Karren Southard, Carterville, MO, and Frankie Winters, Webb City, MO; nineteen grandchildren, thirty-three great grandchildren, and four great-great grandchildren.
She was preceded in death by her parents, her husband, one daughter, Joann, and one sister, Jerrye Thomas.
Graveside services will be held 11 am, Monday, October 22, 2018 at Carterville Cemetery, Carterville, MO. Online condolences may be expressed through www.knellmortuary.com. Arrangements are under the direction and personal care of Knell Mortuary.