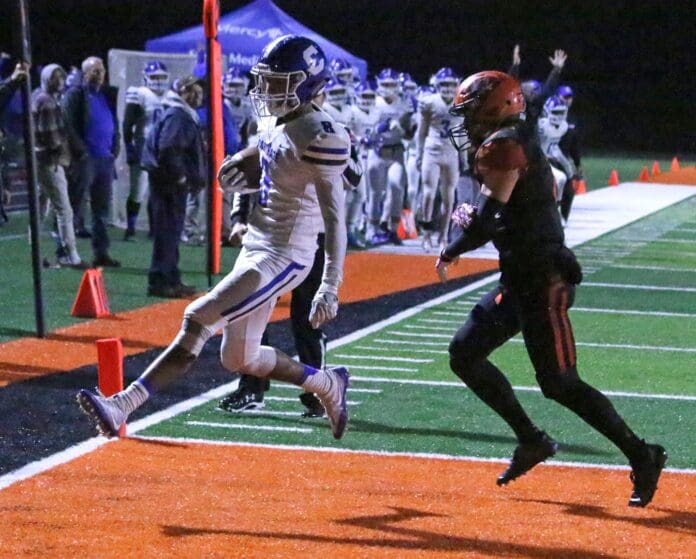 REPUBLIC, Mo. – Several fourth down plays proved crucial in Friday's Central Ozark Conference tilt at Republic.
Fifth-ranked Carthage scored touchdowns on four-straight possessions – every time on a fourth down – and came up with some key fourth down stops defensively to fend off Republic 42-26 and improve to 7-1 on the season.
"Thank goodness our fourth down conversions were good," Carthage coach Jon Guidie said after the win.
The first came on a fourth-and-17 at the Republic 32-yard line and broke a 7-7 tie. Sophomore quarterback Patrick Carlton lofted a pass to wide open senior Tucker Downing, who made an over-the-shoulder catch at the 5 and scored.
On a fourth-and-11 at the 21, Carlton connected with senior wideout Jayden Morgan, who powered his way in for a score early in the second quarter.
Leading 21-13 in the final minute of the half, Morgan took the ball on a reverse and scored from the 7 on a fourth-and-6.
Finally, Carlton kept it himself on a fourth-and-goal from the 1 to give the Tigers a 35-13 lead with 7:25 left in the third quarter.
And the Carthage defense, which was challenged at halftime to get a stop, did just that on Republic's first two possessions of the second half. Republic threw incomplete on a fourth-and-9 at the Carthage 42 to open the half, and then came up short on fourth-and-11 from the Carthage 15.
"That was encouraging to see us step up and get a couple of those," Guidie said.
After the second stop, Carthage mounted a seven-play, 84-yard drive but this time scored a play early – on third down. With the ball at the Republic 43 and needing 25 yards, Carlton threw another over-the-shoulder pass that was hauled in by Morgan at the 10. He scored easily and after junior Marcus Huntley's extra point, Carthage led by 29 points, 42-13.
Those were the final points scored by the Tigers, and they needed almost all of them.
A 75-yard Republic scoring drive brought the home Tigers to within three touchdowns early in the fourth quarter. Republic then recovered an onside kick and scored again three minutes later, but missed the extra point.
Republic got the ball again with three minutes remaining in the game but threw incomplete on four-straight plays.
"We kept making plays and didn't panic," Republic coach Dustin Baldwin said. "I thought the kids did a nice job in the second half, a little better job getting them off the field on third and fourth down. They're great at that, they've always been a great third and fourth down team and in the second half we made some plays on third and fourth down on defense to get the ball back. Offensively we just kept plugging away. Too bad we couldn't have gotten it to one score and see what happened but they're a good football team and hopefully we can bounce back next week."
"We grinned some drives through," Guidie said. "Republic played really well. Offensively they played really well. We did not play particularly well on the defensive side. We've got to clean some stuff up over there, but you're seven-and-one and you have to feel good at this point."
Republic rushed for 274 yards, the first time this season Carthage has allowed more than 200. Entering Friday, the Tigers were giving up just 110 yards per game on the ground.
"We gave up some big plays," Guidie said. "They got out and ran a little bit. They're an athletic team. They have some speed and we didn't contain them very well at times. That was kind of the big deal. We gave up a lot of big plays. Our goal coming in was to limit big plays. We didn't do a very good job there."
Carthage racked up 426 yards of offense and Republic finished with 313. Carlton led the Tigers with 195 rushing yards and two touchdowns on 26 carries. Junior Tyler Mueller added 43 yards.
Carlton completed 11-of-14 passes for 172 yards and three scores. Morgan caught seven passes for 118 yards and two scores, Downing had a 33-yard reception, junior Kale Schrader had two receptions for 11 and Mueller had an 11-yard catch.
Carthage wraps up the regular season by hosting Ozark Friday, Oct. 19 at David Haffner Stadium. Those Tigers are 1-7 on the season after suffering a 42-0 loss to Webb City this week.